Australia and New Zealand have been ranked in the top three of the most aggressively expensive home prices group globally, according to a new report.
The research, conducted by the Bespoke Investment Group (BIG), using the "real" prices of homes (prices adjusted for inflation using the PCE deflator for each country in question), showed that the two neighbours, alongside Canada, had rebounded well since the GFC in terms of home price values.  
The report graphs (see below) shows developed-market home price indices (indexed to 100) as of the year 2000 and highlights the conflicting fortunes of countries before and after the GFC.
"English speaking former UK colonies are by far the most aggressively expensive home price cohort," said the BIG report. 
"The boom/bust cycle in home prices for Australia, New Zealand and Canada was much shorter than it was for other economies, and now prices are grinding steadily higher again; Canada and New Zealand are the only two advanced economies at all-time highs for home prices," it added. 
The research showed that Australia had a downwards 'mini-cycle' but is now once again moving up, while the real winner among the 11 economies researched was New Zealand.  
According to the report, home prices there have gone up by more than 93 per cent since 2000, the best performance of any advanced economy.  
"It's no surprise then that the Reserve Bank of New Zealand hiked interest rates at their last meeting," reported BIG.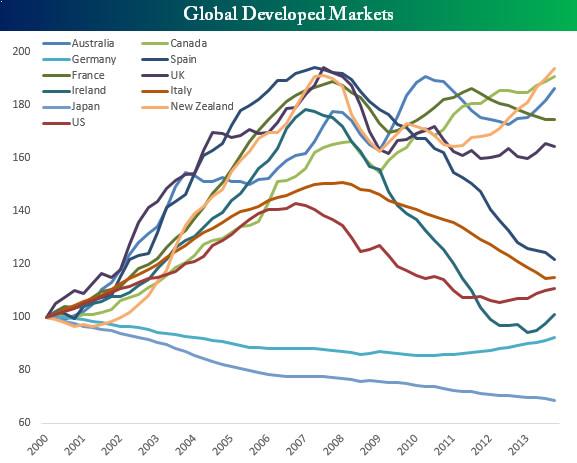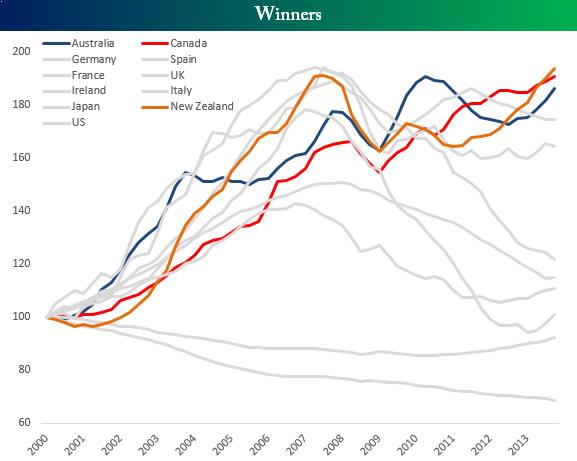 Make sure you never miss an episode by subscribing to us now on iTunes
And dont't forget to leave REB a review!

Listen to other installment of the Real Estate Business Podcast