End of financial year results have seen Australia's capital city dwelling values finish over 10 per cent higher than the previous year, according to the June RP Data-Rismark Hedonic Home Value Index.  
The RP Data Index results showed property prices tipped into double-digit growth figures, at 10.1 per cent, with capital city dwelling values moving 1.4 per cent higher for the month after posting a 1.9 per cent decline in May.
According to RP Data research director Tim Lawless, the strong result has partially reversed last month's 1.9 per cent fall and provides a -0.2 per cent decline in dwelling values over the June quarter.
Over the current growth cycle, capital city dwelling values are up by 15.5 per cent, with Sydney recording the most significant capital gain at 23.1 per cent growth since the end of May 2012.
Adelaide's housing market recorded the least significant capital gain over the cycle to date, with dwelling values rising by 5.6 per cent.
"The quarterly rate of growth peaked across the Australian housing market in August last year at four per cent," Mr Lawless said.
"Since that time the rate of capital gain has generally trended towards a more sustainable level – the slowdown in dwelling value appreciation will be a welcome relief to policymakers and those seeking to buy into the housing market," he added.

Other indicators such as clearance rates are holding relatively firm, which according to Mr Lawless, further reinforces the notion the housing market isn't set to show a market correction.
Over the month of June, clearance rates strengthened and are generally around the high 60 per cent mark across the capital cities week on week.
 Highlights over the three months to June 2014
Best performing capital city: Sydney, up 1.0 per cent
Weakest performing capital city: Melbourne, down 2.4 per cent
Highest rental yields: Darwin houses, with gross rental yield of 6.1 per cent and Darwin units at 5.9 per cent
Lowest rental yields: Melbourne houses, with gross rental yield of 3.4 per cent and Melbourne units at 4.3 per cent
Most expensive city: Sydney, with a median dwelling price of $690,000
Most affordable city: Hobart, with a median dwelling price of $328,000
(Source: RP Data)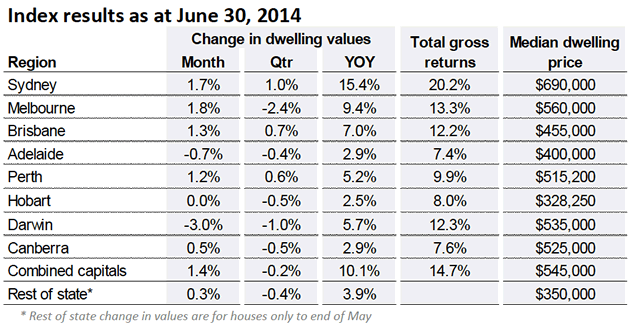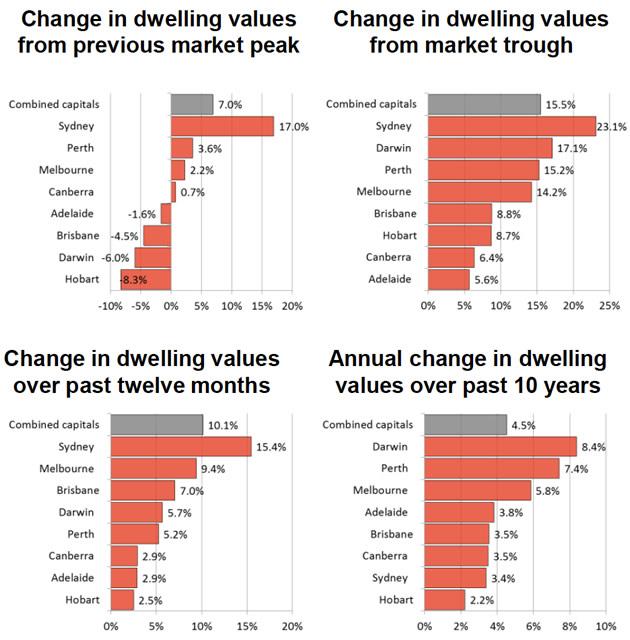 Make sure you never miss an episode by subscribing to us now on iTunes
And dont't forget to leave REB a review!

Listen to other installment of the Real Estate Business Podcast