A Queensland real estate agent has taken a unique approach to selling a hand-built "castle" by enlisting the help of zombies.
A group of zombies shuffling out of a stone building before being bloodily shot down is not the kind of footage regularly used to coerce homebuyers into spending millions on a new family home.
But as the real estate agents at Harcourts in Queensland hope to point out, the Rumble Castle is not your average property.
Julie Andrews, an agent at Harcourts M1, teamed up with Gold Coast production company PlatinumHD to produce a sales video that uses roughly one million per cent more blood than most real estate marketing efforts.
"It was just something quirky and something interesting that was going to go viral," she told the Courier Mail.
"We wanted to attack as much of the planet as possible with the Castle Rumble opportunity...and the best way we knew how was to either shock or scare people with a video."
To achieve this she asked "world leaders in real estate and property video marketing" Platinum HD to produce an open house call out video starring a shuffling horde of zombies.
"Initially we came to them with a tamer concept," Miss Andrews said.
"Because we weren't really sure just how far to push the boundaries from a real estate perspective and in terms of going to the media with a shocking video."
In case anyone out there finds the prospect of living in a haunted witch convent appealing, the estate, Castle Rumble, is the work of owner/builder Brian Rumble, who according to Andrews, "built the house quite literally stone by stone, beam by beam from mostly recycled materials".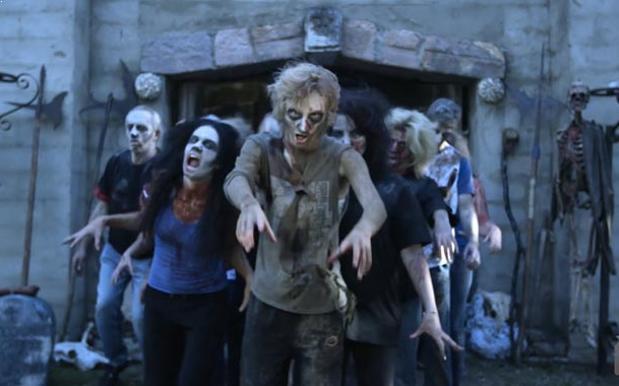 Image Source: Harcourts M1
Make sure you never miss an episode by subscribing to us now on iTunes
And dont't forget to leave REB a review!

Listen to other installment of the Real Estate Business Podcast