A north Queensland PM business has lost its accreditation due to a tongue-in-cheek marketing campaign featuring 'presidential mistress' Monica Lewinsky.
Coral Sea Property Management, based in Townsville, was slapped on the wrist by the Real Estate Institute of Queensland due to its unique approach to marketing.
Key to its advertising was using racy images and cheeky captions to poke fun at both competitors and the industry in general. One campaign that took particular offence was a large image of Monica Lewinsky emblazoned with the caption "Last agent leave a bad taste in your mouth?" (picture below).
Monica Lewinsky was accused of, and later admitted to, having a whirlwind affair with former US president Bill Clinton in 1996.
Coral Sea Property Management principal Shaun Podbury said stripping his business of the REIQ membership is heavy-handed and Podbury believes his approach is both professional and consistent with good agency practice – two accusations he has been forced to defend against the REIQ.
Mr Podbury said the only reason this matter has escalated to a public debate is because it was raised directly with the Townsville Bulletin by a local REIQ branch representative, who made "multiple ill-informed inflammatory comments".
"Whilst I understand our promotion and marketing may not be to everyone's taste, any inference that, by the use of two signs some people allegedly find offensive, our office is somehow 'unprofessional' or not consistent with good agency practice is ludicrous," he said in a response to the REIQ's threats of membership termination.
REIQ chairman Rob Honeycombe said the institute would never shy away from enforcing its strict professional standards.
"All REIQ members have to adhere to our expectation of high professional standards, they realise that when they sign up," he told Real Estate Business.
"When there's a clear breach of those standards, we have to act. That's what our members expect and demand and in this case there was a high volume of complaints from our local members.
"We investigated the matter and found the conduct didn't reflect best practice and wasn't in the best interests of our members.
"Our constitution gives the board the authority to expel members from the institute when they behave in a way that is not in line with our expected professional standards.  
"We don't want to stifle innovation and creativity – they're things we encourage among our members – but we have to draw the line when our professional code of conduct is blatantly flouted," he added.
In an email sent out to his clients Mr Podbury wrote, "It seems by sticking up for the consumer and poking a little fun at the poor service offered by other agents we have again upset the corporate suits.
"The REIQ is an industry body that represents agents not you, our customer.
"You are protected by the Queensland Office of Fair Trading, who are responsible for protecting your rights.
"Fair Trading is also responsible for all licensing and regulation within the real estate industry, and Coral Sea Property is of course fully licensed and compliant," he added.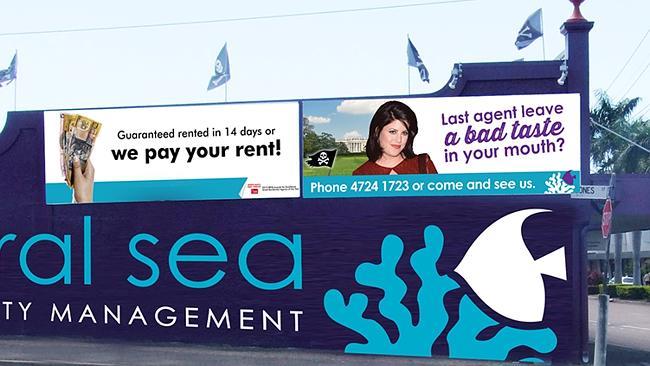 Source: Coral Sea Property Management
Make sure you never miss an episode by subscribing to us now on iTunes
And dont't forget to leave REB a review!

Listen to other installment of the Real Estate Business Podcast