The real estate and mortgage broking industries are divided on whether it is ethical or effective for the same company to offer both types of service
Real estate agents may be a much less cynical bunch than mortgage brokers if a comprehensive national survey is any guide.
It turns out that agents are more open-minded than brokers on the controversial issue of convergence – that is, whether it's ethical or effective for the same company to offer both real estate and broking services.
More than 900 professionals took part in the exclusive survey, with 89.6 per cent based in the mortgage or real estate sectors. The other 10.4 per cent were from associated industries such as financial planning, banking, insurance, superannuation and SMSF advice.
One of the survey's key findings was that real estate professionals generally accept bringing property and finance under the one roof, while mortgage professionals generally don't. The survey also found that respondents with less professional experience are warmer on the idea of convergence than those with more professional experience.
Another of the survey's key finding was obvious – professionals who work for a company that combines both services are more supportive of the idea than those who don't. However, perhaps surprisingly, professionals who previously worked for a company that combines real estate and broking are significantly less supportive than those who currently do. They are also less supportive – on some specific questions – than professionals who have never worked for such a company.
Respondents provided a range of reasons for why they supported or opposed convergence. From a consumer's perspective, the main benefit was considered to be the convenience of a one-stop shop, while the main concern was that finance details might be shared with an agent. From a company's perspective, the main benefit was diversified revenue, while the main concern was a potential conflict of interest.
Survey overview
REB+ has produced a comprehensive survey that not only covers all states and territories but also a range of industries, job types and experience levels.
Nine in 10 respondents were real estate agents, property managers or mortgage brokers, with the remainder consisting of bankers, financial planners and other related professionals.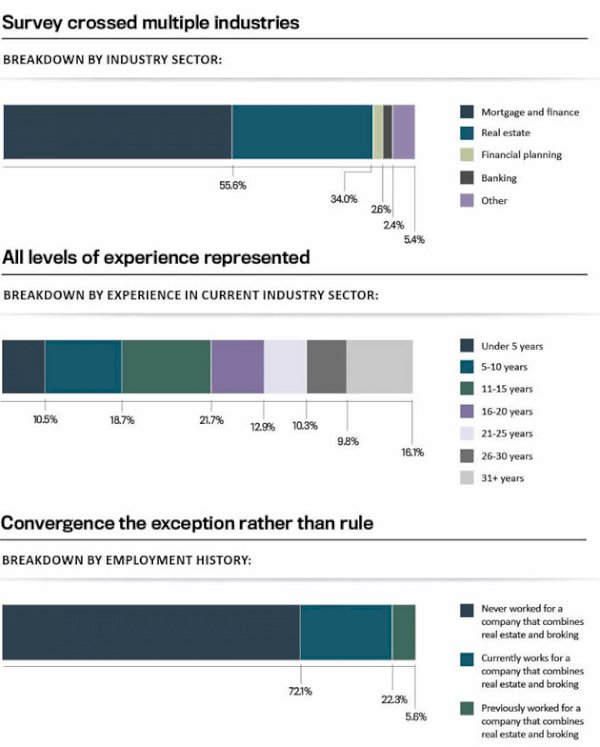 Convergence remains controversial
The barriers between real estate sales, mortgage broking, and other related services have shrunk in recent years, as more and more companies have been seduced by the potential of cross-selling.
However, as the survey reveals, large numbers of professionals remain unconvinced by the strategy, either because they feel it's bad for businesses or bad for consumers – or both.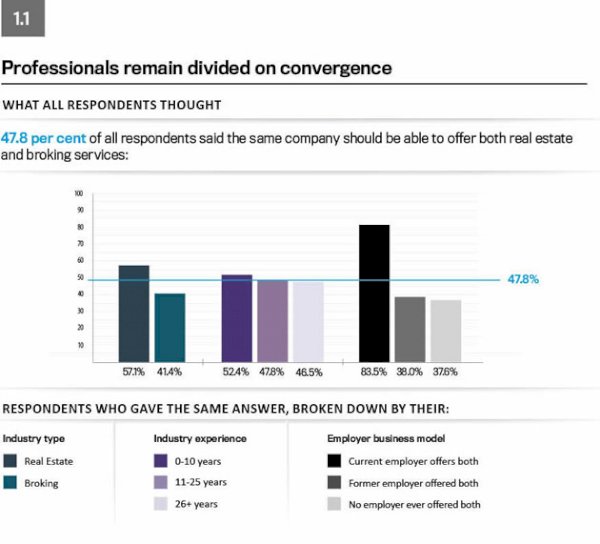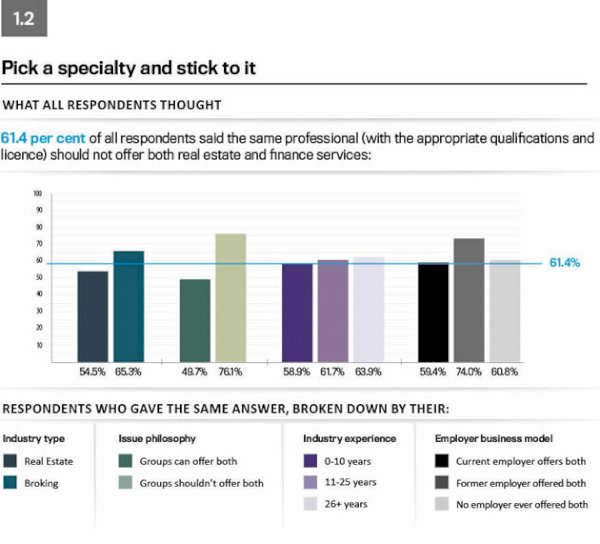 Potential client benefits are limited
Most professionals believe that clients receive little benefit when companies offer both real estate and broking services, despite the one-stop shop convenience.
One particularly cynical group of respondents were those professionals who had previously worked for a group that offered both real estate and broking services.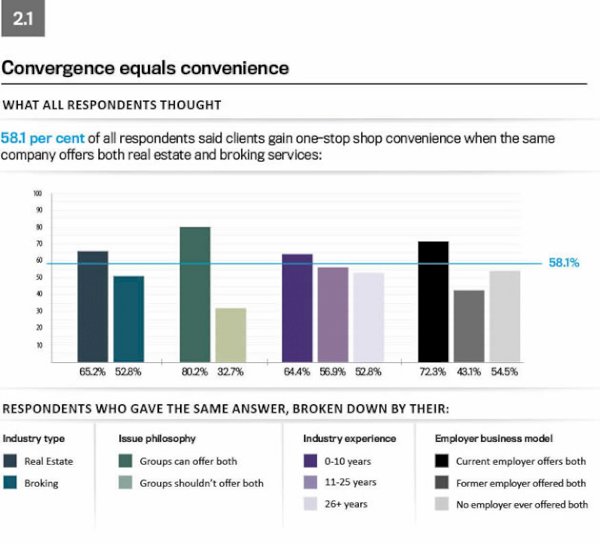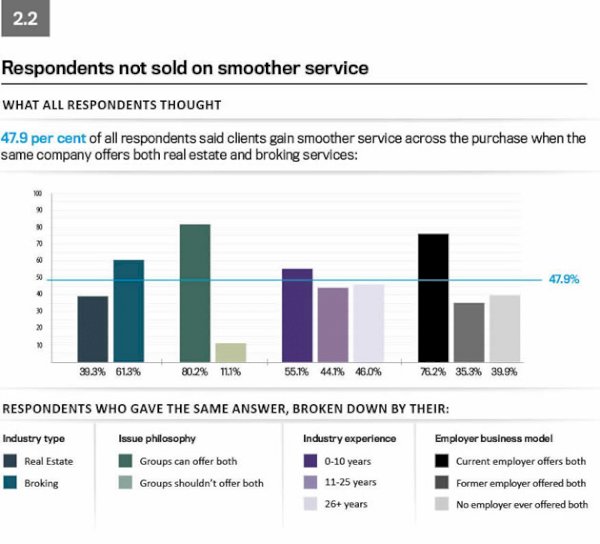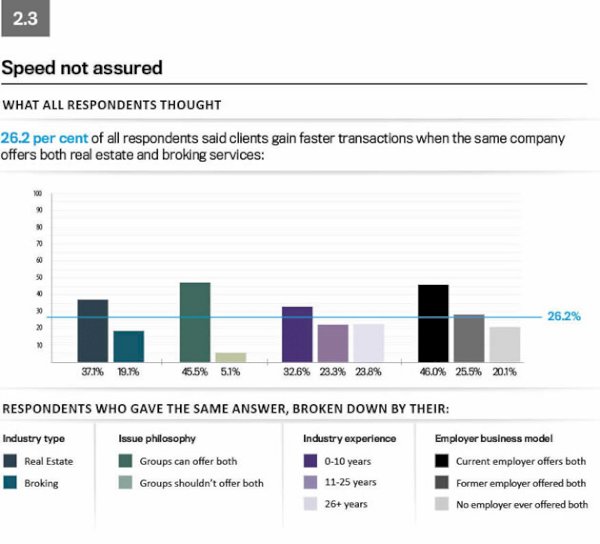 Potential client pitfalls are also limited
Just as there is a general view that clients don't benefit from convergence, there is also a general view that they don't suffer.
Convergence has its champions and its critics. It also has its fair share of apathetic observers.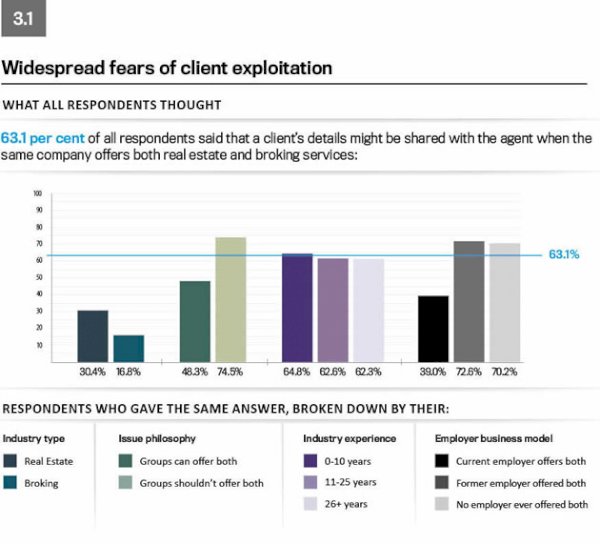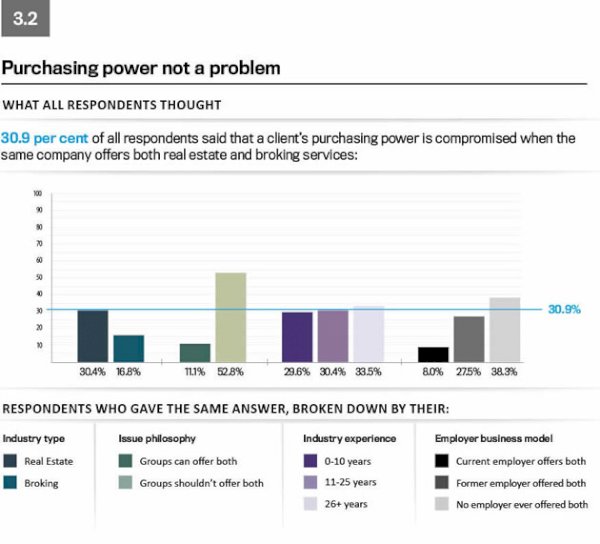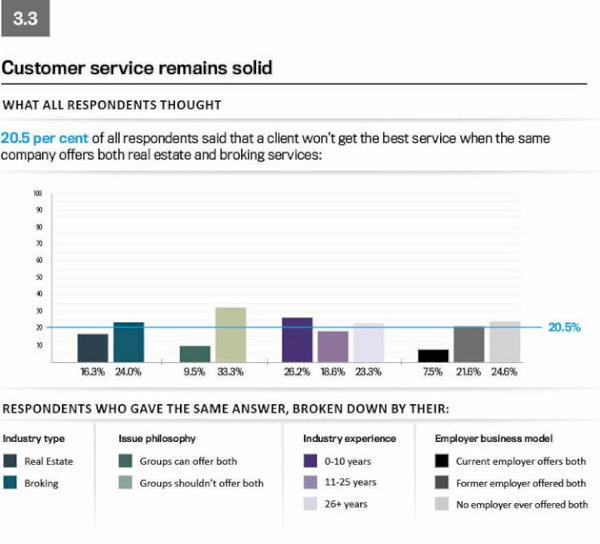 Convergence can be smart business
The survey found that only 9.1 per cent of respondents believe that businesses can never benefit from offering both real estate and broking services.
In other words, most professionals believe that convergence can be a clever business strategy if properly implemented.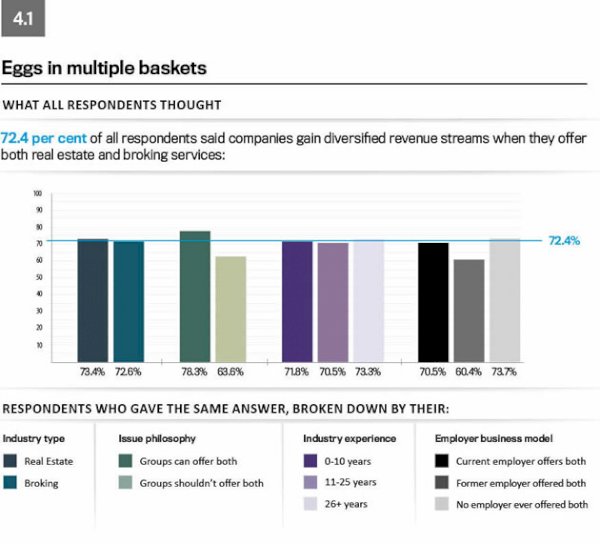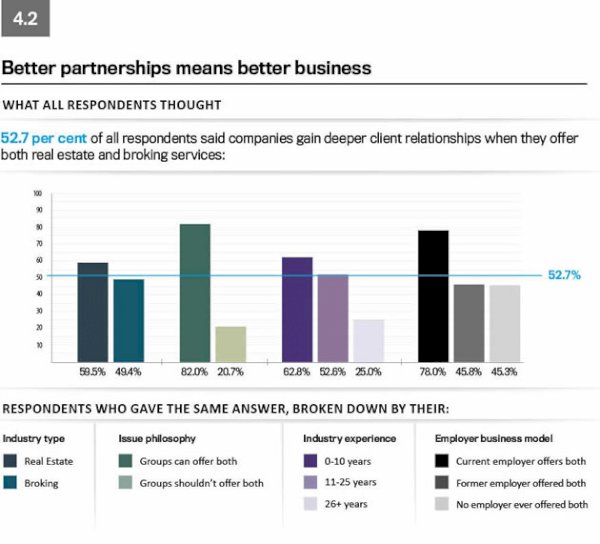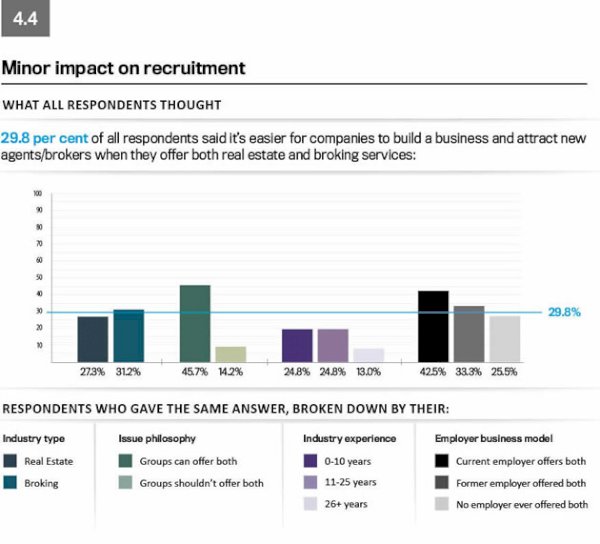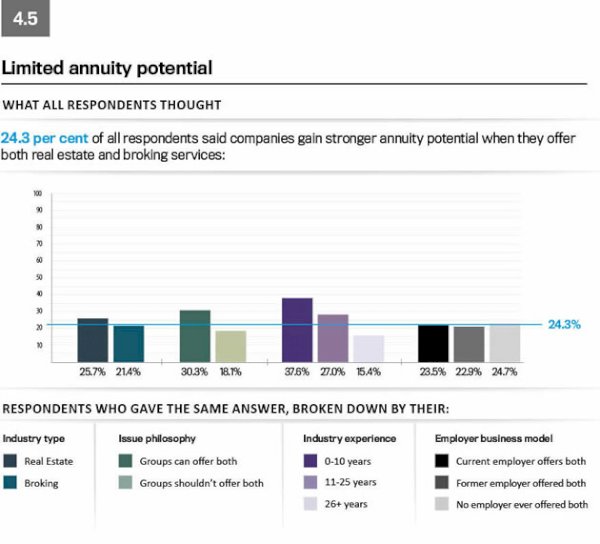 Danger: conflict of interest ahead
The survey found that most professionals have a nuanced view of convergence, with only a small minority of respondents being committed supporters or detractors.
On the one hand, professionals believe that convergence can make businesses more profitable; on the other hand, they recognise that businesses can misapply the strategy.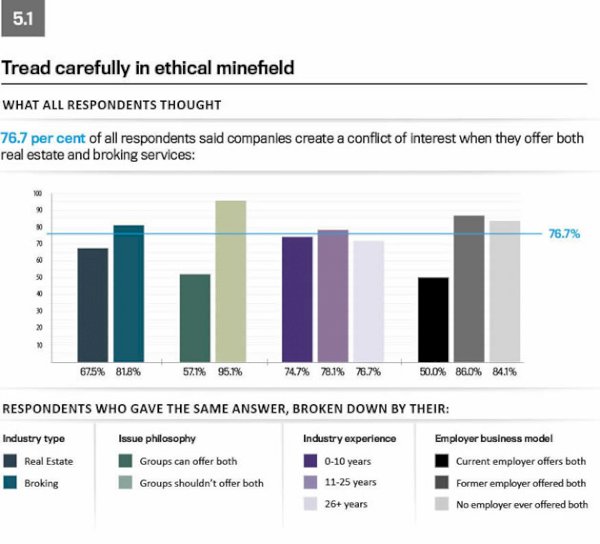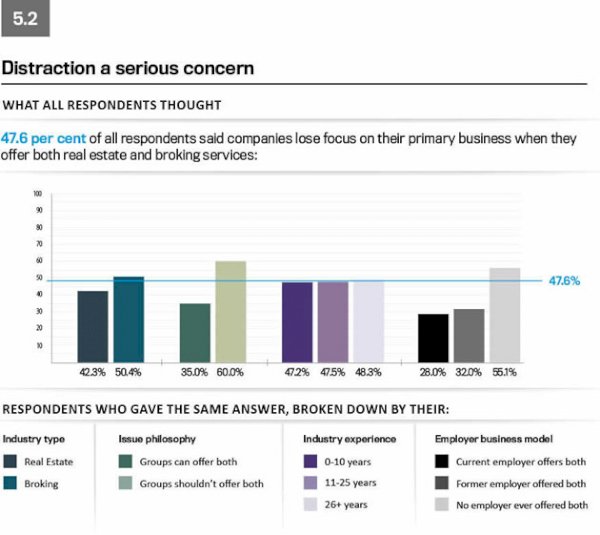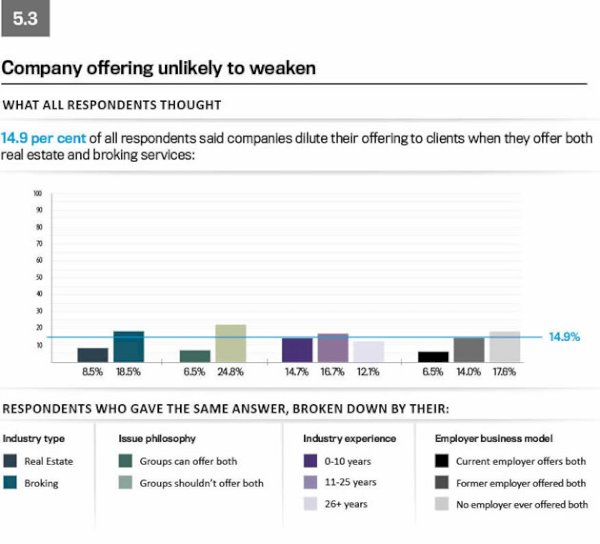 Make sure you never miss an episode by subscribing to us now on iTunes
And dont't forget to leave REB a review!

Listen to other installment of the Real Estate Business Podcast