During the Christmas season, the rent often becomes the last bill to be paid. Deniz Yusuf reveals his stategies for keeping tenants out of arrears and rewarding them for their efforts. {jcomments on}
Blogger: Deniz Yusuf, BDM and coach, bdmcoach.com.au
As we all know, Christmas is right on top of us, and it's a fantastic time of year too. You can just sense the joy and elation as people hustle and bustle around trying to buy that last minute surprise, and catching the specials.
This time of year is about giving and the joy is everywhere. We all spend that little extra and think 'she'll be right', it doesn't matter if I break the budget this week, I'll deal with it next week. But guess what? All of the property managers are the ones that get affected by this. When that credit card bill comes in a few days after Christmas and all the Laybys have to be paid, and the agency is closed, clients know they won't get a call from their agent. As a result, the rent becomes the last bill to be paid.
One thing that you can do is give your tenants something back - reward them before they become a number on your arrears list. There's a way that you can help them be in front of the rent before Christmas even comes so if they miss a week, they won't become an arrears number for you. In the end, we all need to remember that there are many tenants out there that do pay the rent on time, and they too should receive their pat on the back for being a good tenant.
My meaning of "give them something" is to set up a raffle for all of your tenants and encourage them to get in front of their rent. You have an abundance of tradespeople that you give business to each year, it's now their turn to give back to your office, so you can pass on to your good paying tenants. Carpet cleaners, lawn, garden care, house cleaners and your maintenance guy can give up some time too, now don't forget to ask the coffee shop and restaurants that you take your clients too week in and week out, once a year for a donation isn't much to ask. Guess who else is going to be happy if your tenant wins a prize? The landlords, not only are their tenants NOT falling behind in rent this Christmas, but their home is getting some love too.
So send out an email to all of your tenants, put a sign up at the front counter, in the window displays, on the rental lists and in all of the newsletters, and let everyone know, that for each week your tenants are in front of the rent, they go in the draw to win some prizes. Two weeks in front, two tickets, three weeks three tickets and so on.
By setting this up at the end of November, you're giving your tenants the opportunity to save up, and get in front. It's also a great tool in telling prospective tenants when they're viewing properties, and don't forget the potential landlords: "Mr & Mrs Smith we care for your tenants that much we encourage them to stay in front of their rent over Christmas, and they can even win a prize that looks after your investment."
So if you want to minimse your arrears over Christmas – let's be honest, you don't want to be calling tenants to pay up this time of year – give something back and get in the spirit for both your tenants and yourselves as you're keeping your landlords happy because their tenants are in front.
---
Deniz Yusuf, BDM and coach, bdmcoach.com.au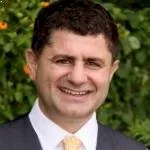 Deniz Yusuf was a BDM for Integrity Real Estate on the South Coast of NSW. He listed over 900 new managements in a 4 year period, with an astonishing 317 in 2012 and was awarded the best BDM two years in a row with Leading Property Managers of Australia during his time as an agent. Deniz is now a coach and mentor to agents across Australia and New Zealand through BDMCoach.com.au. Find out more about Deniz and his Coaching services at bdmcoach.com.au.
Make sure you never miss an episode by subscribing to us now on iTunes
And dont't forget to leave REB a review!

Listen to other installment of the Real Estate Business Podcast