The Australasian real estate industry is as mature as any on the planet. We compete against our peers globally and do it well.
Within the global brand I'm associated with, RE/MAX, with its presence in 95 countries, Australia currently has an impressive 13 of the top 20 international teams.
The Australasian real estate industry and Australasian real estate agent practices stand up very well against other nations, and I'd go so far as to say may often beat many international peers hands down when it comes to skills, characteristics and methodologies such as multiple marketing options including the auction system. It is indicative too that real estate is more widely perceived as a career than in many other countries.
In comparison, for example, with the US and Canada, the Australasian real estate industry is not of the same scale. We don't come close to the huge numbers of offices and agents involved there… yet! I have no doubt that Australian and New Zealand real estate offices will continue to grow both in numbers of agents and services provided by an office.
On my recent trip to Canada, for example, where RE/MAX has 36 per cent market share, I saw some massive operations. I spent time in one real estate business, Richard Pilarski's RE/MAX Realtron Realty. He has eight offices in Toronto with in excess of 700 sales associates. One office alone has 300 sales associates.
Will Australia and New Zealand follow down the path of creating real estate operations of that scale?
There are offices with 100-plus agents in Australia already; and while we may not see offices with 300 to 400 agents or greater being commonplace in the short term, there's every possibility we'll see 30 to 50-strong sales forces on the rise.
For instance, in Canada and the US, no more than approximately 30 per cent in the real estate industry work from an office, and that is a growing trend here in Australia.
With ever-expanding technology, there is a lot more capacity for people to work remotely; so we can expect that real estate businesses will expand without us necessarily seeing bigger physical premises where sales, property management and financial specialists gather and work. RE/MAX AIRR is one such existing example - where portals and databases are more important, and more widely used, than desks and office car parks.
---
About Michael Daveron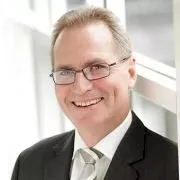 Michael Davoren is a respected veteran of Australian real estate with an extensive career that spans more than three decades, including terms as president of both The Real Estate Institute of Australia (REIA) and The Real Estate Institute of Queensland (REIQ) and is currently the managing director of RE/MAX Australia. He has also managed his own real estate company, had past appointments in industry corporate roles and is an award-winning auctioneer.
Make sure you never miss an episode by subscribing to us now on iTunes
And dont't forget to leave REB a review!

Listen to other installment of the Real Estate Business Podcast