Using social media to your advantage is an easy task. Right? Wrong!
To effectively communicate your intended message to a potential 17 million active users on Facebook, 9 million active users on Instagram and 4 million active users on LinkedIn, it is imperative to create the right social media strategy for you and your brand. Don't worry! We are here to help you out with this.
We want to give you five achievable steps to help you create a powerful social media strategy.
1. Know who you are
As a business, as a professional, as a product. You must know what your key messages and competitive advantages are as the first step when creating a successful digital strategy. What are the main points of difference you represent in your chosen field? These are the elements that will make your strategy stand out against others, giving you that competitive edge you need to reach your target audience.

2. Identify your tone and manner
It is important to establish a clear voice for your brand on social media. We recommend using approachable yet professional language for the best results. Plan ahead, making sure the content you will be posting is consistent from the beginning. Lock this into your social media strategy from the start and make sure you remain consistent with this tone throughout the rest of your social media efforts.
3. Analyse your competitors
No, we don't mean sit on your phone all day watching their every move. We mean be aware of what your competition is doing in the digital space. Look at your Facebook Watched Pages, your Instagram analytics and your LinkedIn Insights to gather a comparative study of where you stand against other social media users in the same field. Your competitors are labelled that for a reason — you don't want to mimic their strategy, you want to create a strategy of your own that keeps you on top of the game.
4. Define your objectives
Why are you on social media? This question often gets overlooked when planning your digital strategy. It is imperative to define your objectives, making sure you refer to these throughout your entire social media journey. Don't be disheartened if they change throughout the process; think of this as a positive thing! As long as you always identify what you are aiming to achieve, you will always have a clear, defined path to social media success in front of you.
5. Understand your target audience
Narrow your target audience down to a specific niche. We are talking about the gender, age and location of a specific audience you intend to reach with your strategy. Humanise your audience and create clear customer personas to ensure you know exactly who you are speaking to.
Understanding your target audience means you can create content that caters to their unique interests and desires. Think about what you would want if you were in your target demographic and track your analytics along the way to see how your content is tracking with this group.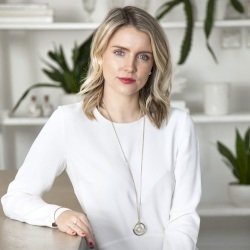 Tiffany founded Chronicle Republic to pursue her love of property and her drive to make brands shine. Her unique industry experience means she truly understands the needs of her customers.
With a Masters in Marketing and a Bachelor of Arts in Communications Tiffany has wealth of experience, and has worked on dozens of marketing projects for businesses in the property, interior design and home improvement industries.
Former Marketing Director for an award winning, innovative real estate agency, Tiffany was awarded the first ever industry award for Digital Marketing in 2014.
Tiffany is passionate about seeing other businesses grow and prides herself on helping brands bring their stories to life.