Considering managing your social media in-house or using an agency to manage your socials? Here's how I suggest you vet your candidates when it comes to hiring a social media manager internally or an agency to work with.
I've hired a few social media team members in my time and I've also seen how it can be done well in-house for real estate agencies.
Do they understand the business climate you operate in?
It's a common mistake to think that a receptionist, administrative person or EA can run your social accounts, but the reality is the results are often poor and costly.
Do they understand the clients and target audience you are trying to attract? What content might be of interest to this group and what's going to get them engaged with your brand? They should have a thorough understanding of the real estate space as well as the demographics you are targeting.
Look for someone with both real estate experience in the real estate industry as well as social media space where possible. If you can't find someone with both, ensure you onboard them thoroughly and/or invest in external training to upgrade their skills.
Have they got experience working with social platforms for business purposes?
Unfortunately, experience creating content for personal social media channels won't cut it.
Your in-house personnel or agency needs to be familiar with creating content for businesses, be across the Instagram and Facebook Business Manager or Ads Manager platforms as well as multiple third-party tools that you will need to use to schedule your social posts, manage paid social content and analyse results from that content.
If you are running paid ads (and you should be), the person in charge should be able to optimise and tweak your ads for best performance, or you might end up wasting ad spend. Another issue I come across is finding someone who can actually track and monitor what content is working and what isn't. This might mean delving into analytics as well as what times are best to post your content.
Do they have a varied skill set?
As a Social Media Manager, you need a varied skill set to create content that's relevant and engaging, create graphics and imagery for your posts, analyse reports, and create and manage paid social media promotions.
Generally, I look for creatives that have experience creating assets for digital and social media as well as someone with very strong writing skills such as a journalism or marketing graduate. They will also need to be someone who can manage lots of moving parts and pull together various components from different teams to make your content genuine and engaging. Strong attention to detail and organisation skills are crucial to avoid errors and ensure they can deliver on tight deadlines and rapid turnaround.
Customer service skills can also come in handy in this role as you will need someone to monitor and respond to engagement on your accounts daily. There's really no point creating content and then ignoring the engagement you receive from your audience. You need to foster and encourage further engagement on your accounts to convert these people to potential customers.
Do they actually have the time to do their job properly and consistently?
The average social account takes an experienced person about 25–50 hours per month to create content and manage the channels daily (this will vary depending on the amount of content you plan to produce). Consistency is key in the social world, especially in real estate where it can take months of work to start seeing return on investment.
If you think the person you are considering for the role might drop the ball on the content creation, run out of creative ideas or get distracted by other tasks on their plate, you may want to reconsider whether this is the right approach to achieve a consistent outcome, which will be required to remain top of mind with landlords, vendors and buyers.
If you plan on restructuring an existing team member's role or splitting their role into multiple duties that perhaps include social media and other marketing or admin tasks, consider whether they will be able to have the time to deliver the outcomes you're expecting and if they will have the flexibility in this role to drop what they are working on to create a last-minute urgent post, to fix a technical glitch on your account or deal with a disgruntled client who's gone rogue on your socials.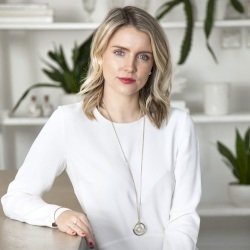 Tiffany founded Chronicle Republic to pursue her love of property and her drive to make brands shine. Her unique industry experience means she truly understands the needs of her customers.
With a Masters in Marketing and a Bachelor of Arts in Communications Tiffany has wealth of experience, and has worked on dozens of marketing projects for businesses in the property, interior design and home improvement industries.
Former Marketing Director for an award winning, innovative real estate agency, Tiffany was awarded the first ever industry award for Digital Marketing in 2014.
Tiffany is passionate about seeing other businesses grow and prides herself on helping brands bring their stories to life.