Real estate training from a two year-old
Blogger: Matthew Waddell, general manager, Robinson Property
I've worked with a lot of real estate agents and trainers in my 24-year career in real estate but I think I've found the best trainer of them all…my 2 year-old daughter.
She is constantly training me in the main principles of real estate and, unlike a two-day seminar, this is everyday intense training at all hours of the day and night and you don't get to leave at the end of it.
Conversations are constant negotiations. You know what outcome you want to achieve but can you get her there with your negotiation tactics. If you can get a two-year old to have an afternoon nap instead of watching Wiggles and eating biscuits, you can surely get the best price for your vendor when negotiating with a buyer.
Getting out of your comfort zone – real estate is all about getting out of your comfort zone and doing things differently. Go to a music class with your two year-old and a group of strangers and dance and sing along…for me that's getting out of my comfort zone but you know what…it feels great at the end of it and you certainly learn and grow from the experience and are more open to next 'thing' whatever that may be. 
Keeping up with technology – do you know how many gadgets there are now for toddlers and babies? It makes real estate technology look easy. There's grow clocks, phone apps, talking books, talking potties…you name it they've made it and as a parent you're constantly being told this 'new' thing is the best thing ever…sound familiar.
Time management – every parent says how busy they are and if you ask real estate principals they'll say they love employing mums because they are so organised. If you get your time management wrong with a two year-old, your day (and theirs) is ruined. If you plan play time at the park at 1.30pm when that's nap time, watch out. The consequences can be severe, ranging from a tantrum due to being overtired through to a sleepless night due to their routine being out of whack. It's all about routine and following it…what better lesson can you get for a real estate career….follow a daily routine WIN, don't and fail.
 Confidence – ever had an agent who had a certain routine or a certain outfit that they felt gave them the edge going into a listing presentation? It's all about confidence and you certainly need plenty of it with a two year-old. If you know a certain book gets her to sleep easier than others (usually long story books not books that have finger puppets in them) then that's your 'go to' when in a pinch and, like your lucky undies, gives you the confidence to get the job done.
Not to get over-excited and then let down – how many agents drop everything when an appraisal comes in and go running out to do it ASAP without qualifying the lead but extremely excited – 'This is the one I need'…? Hopefully, not many these days. But the excitement of your two year-old saying 'wee wee coming' when you start toilet training is close to that excitement. You grab her and run to the potty and sit her on it…look into each other's eyes and then the words you don't want to hear…'wee wee gone now'. NO! 'We aren't thinking of selling yet' NO!
Eliminate distractions – a lot of real estate trainers will say get the vendors into the office to discuss your appraisal and listing plan rather than doing it in the house where there are lots of distractions. I couldn't agree more. Every agent has sat there trying to engage the vendor while the dog's barking, the kids are turning the TV up so they can hear it over your voice, they both keep looking at the clock on the wall behind your head…you just can't hold their concentration and build on the relationship. Try getting a two year-old to sleep in her room with the light on so that she can see all of her toys and books. "More bookies" "Teddy hop in"…"No, darling, we're just reading this book then off to sleep"…Good luck with that. Take all the distractions away and the result is much better.
Handling rejection – "we went with the other agent" compared to "I want mummy not daddy"…both hurt but one is supposed to love you unconditionally…how can they tear your heart out so easily (the two year-old not the vendor by the way). If you can handle that sort of rejection you don't ever fear asking for the business.
Trial closes – bedtime is great training for trial closes. Instead of getting a listing you're after something much more precious…a good night's sleep. Instead of asking a potential vendor when a good time would be to take photos or the best arrangement for inspections, it's 'do you want to read a bookie' or 'can daddy hop in your bed with you'? There are a series of questions and actions to follow, and if done correctly with the right timing, they can work but if you're off at all or don't read the signs correctly, you can be going for another hour, or worse, not get the business at all and it goes to the other agent…"Mummy…I want mummy!'…you've lost.
Constant change – just when you think you've got everything sorted and it's becoming 'easy', there is change without notice and you have to adapt to new ways of doing it. If you don't like change you'll hate real estate and having kids. You can make it very hard for yourself in real estate by not constantly changing and like with a two year-old, you never know when the change is coming…but you can be sure it's coming.
While there are plenty of books about parenting, as there are for being a real estate agent, nothing beats on the job training. So whether it's parenting or real estate, I'm sure I've still got a lot to learn.
ABOUT THE AUTHOR
---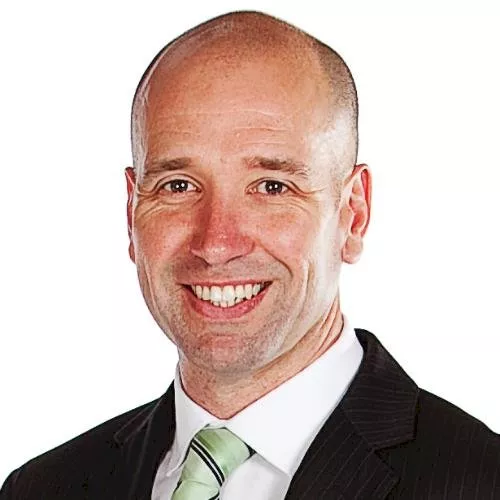 Matthew Waddell started in real estate in 1989 and since then has worked both for independents and franchise groups. He is currently general manager of Robinson Property, which placed second in the 2015 Top 50 Sales Offices ranking. Matthew is married to Kristy and they have two beautiful daughters, which he rates as his greatest achievement and the motivation to always be the best you can be.