Mirror, Mirror on the (Facebook) Wall
Blogger: Douglas Driscoll, CEO, Starr Partners 
Social media is about people. If you believe the cliché, real estate is also about people, not property. On the surface, it's a marriage made in heaven, so why is it that the real estate industry struggles to master social media?
Part of the problem is that we concentrate far too much on ourselves and not enough on the customer. Strong relationships are built on information, not promotion; yet for some, social media seems to be more about narcissism than communication.
We spend too much time begging or bragging and often fail to grasp the 'social' component of social media. Social media is designed for dialogue, not monologue, so a customer-centric approach is paramount.
 Our industry certainly has its fair share of narcissistic pseudo-Brian Tracy types who constantly post profound thoughts or mind-numbing minutiae on their own accomplishments (you know who you are!). The harsh reality though, is that customers simply don't care. They want engaging content that is relevant to them and their daily lives. Whether deployed for market commentary, useful information or even humorous titbits, social media is a catalyst for influence and intimacy.
Here are some useful tips to help boost your results:
Call-to-Action

– Speak to anyone who's anyone in marketing and they will tell you how important a call-to-action is. According to Facebook, adding a question or encouraging feedback can increase engagement by 37%.

Strong Images

– A strong image will help grab attention and will increase likes, shares, re-tweets and comments.

Market Commentary

– Tangible information on the local property market is of value and will help demonstrate your knowledge and enhance gravitas.

Humour

– Try to demonstrate that you take what you do seriously, but you don't take yourself too seriously. People want to deal with human beings, not robots; so don't be scared to have a bit of fun.

Controversy

– You just have to look at the page views for the stories on this website to realise that conflict and controversy is what often drives public attention. Drawing attention to controversial subjects can increase virality.
Whatever approach you decide to adopt, it has to be consistent and align with the overall strategy of your business. Unconnected tactics in social media aren't going to gain traction or customer loyalty. You need to create the architecture that ignites the 'social' in social media if you are truly going to flourish. 
ABOUT THE AUTHOR
---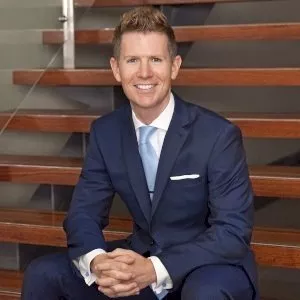 Douglas Driscoll is CEO of Starr Partners, and was named Industry Thought Leader of the Year at the Real Estate Business Awards 2016. Originally from the UK, Douglas is widely regarded as one of the industry's preeminent thought leaders, and is lauded for his dynamic and pioneering approach.