Supporting your local community
Blogger: John Paranchi, sales agent, McGrath Estate Agents Hunters Hill
If you want to position yourself as a market authority, you have to show you care about your area and you're engaged in what's going on. Community work is an excellent way to do this.
In today's real estate world, a lot of business is done through relationships, and community work is a great way to connect with the locals. Sponsoring an event and spending time meeting people and having a chat is 10 times more powerful than any number of DL cards you can put in their letterbox. Don't get me wrong, DL cards and the like are important for conveying success, but community work is about showing some heart.
The cynics of the world would say we only do community work to generate more business. The reality is, there are plenty of community organisations that need support and want our help - so what's wrong with both sides benefitting?
Each year, I donate $15,000 to local schools and clubs and this has a real impact. I could easily spend that money on more ads, but I like giving back – there's a real 'feel good factor' about it.
Community work won't get you the listing but it will get you on the shopping list, and that's what personal marketing is all about. It might also be the one little thing that separates you from another agent competing for the same listing.
The first step is to work out how you can reach your core market through your community work. In my case, I sell a lot of family homes, so it made sense to get involved with schools and kids' sports clubs.
Here are a few tips:
Don't just write a cheque. Attending events demonstrates a real interest and commitment and people will appreciate that

Introduce yourself. Don't aim to form a relationship with everyone; approach a few people in your client demographic and strike up a conversation. Don't ask if they're thinking of selling, just aim to form a connection

Use your own name as well as your company logo to ensure a personal benefit. I'm a major sponsor of the Gladesville Ravens and every week there's 1,000 locals wearing jerseys with my name on it. I often meet families at my opens with their kids in our jerseys. It makes me smile (especially when I know they're probably visiting my competitors' opens too!)

Always be very clear and specific about what you want in exchange for your support. Ask what opportunities exist for promotion before, at and after an event

Leverage every opportunity. Say you're sponsoring a school event, don't just be satisfied with a mention from the principal. For example, one of my schools recently held a mothers and fathers breakfast. My whole team attended and for the mums, we organised single wrapped flowers with a card saying "Compliments of John Paranchi at McGrath". For the dads, we organised drink coolers with the school's name and my name on them. We gave them to the kids to give to their parents and they were a huge hit

Promote your community work. At the bottom of all my letters I have a paragraph saying "Proudly sponsoring…" with a list of more than 10 schools and clubs. I also post community news and photos on my Facebook business page

If you're going to do community work, don't expect the phone to ring off the hook. This is a very subtle yet very effective way of achieving front-of-mind awareness, so once you have your deals worked out, focus on enjoying the work you do and the people you meet
ABOUT THE AUTHOR
---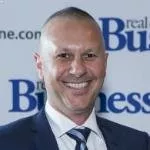 John Paranchi is an award-winning agent at McGrath Estate Agents Hunters Hill with an outstanding track record for exceptional sales results in any market conditions. He was ranked number six in McGrath's 540+ network in 2012 and was ranked number six in the Real Estate Business' Top 100 Agents this year. John was recently named Sales Agent of the Year at the 2013 Australian Real Estate Awards.