Blogger: Sadhana Smiles, CEO, Harcourts Victoria 
How do you get the consumer to choose your brand over others in your marketplace?
Well, the market indicators remain positive as we near the end of the first quarter. Offices and agents are achieving great results for their clients, numbers at auctions are up and properties are being sold over the reserve consistently.
Growth would have to be the key goal for agents and businesses in 2014. Given the current market, now is the time to gain more market share and put some space between yourself and your competitors.
For many of us, however, there isn't necessarily an influx of additional stock on the market but it is more a case of listing more of what is available and getting them to choose your brand to sell or rent their home.
And that is challenge for many – how do you get the consumer to choose your brand over others in your marketplace?
Let's first ask the question, what is a brand? 
In the words of Ross Smith, from Brand Builders, "A brand is a promise wrapped up in an experience", "It is the way people can be expected to be treated by you".
So if you want the consumer to select your brand, more often than not one of the first questions you need to ask yourself is what is your brand promise and experience?
A number of brands articulate this very well. As an example, McDonald's brand promise is 'Be our customers' favourite place and way to eat and drink', and isn't this true given who their customers are.
Once you have articulated what your brand promise and experience is, the key challenge will be to ensure everyone in your business understands and delivers this consistently.
This is a challenge because everyone in your business will have a different concept of what your brand promise and experience is, and if you don't get them all on the same page then everyone will deliver it differently and the consumer will get a diluted, bland experience.
Getting on the mind shelf of prospects in your marketplace is the key to being selected – every time they consider a real estate transaction they think of you not your competitors.
Let's consider who you are actually competing with. If I asked you to make a list, you would perhaps list key agents or agencies. However, today you need to consider that you are competing with every brand and business in your marketplace.
Think of the brands that compete for your attention on a daily basis; from the moment you wake up to when you go to sleep you are getting thousands of messages from brands asking you to select their services or products.
So why will the consumer remember you amongst all this competition for their attention? Is it your DL drop? Is it your local area marketing? Is it billboards, radio ads?
These all compete at the same level with every other brand in the marketplace for a spot on the consumer mind self.
The most powerful way a consumer will remember you is the service or experience they receive when they interact with you or your brand. What did you do or can you do that sets you apart from the plethora of competition you now have?
Memorable experiences and great relationships is what will win every time. This is what gets the cut-through to front of mind awareness of the consumer.
Imagine if you occupied front of mind awareness in every marketplace you have an office or agent in. Imagine if they saw you as a trusted adviser instead of a real estate agent.
If they know you, like you and trust you and you make them feel great every time they interact with you, they believe you understand their needs then you become the real estate agent or agency of choice.   
ABOUT THE AUTHOR
---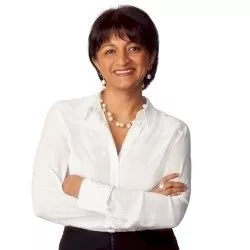 Sadhana Smiles is chief executive officer of Harcourts Victoria, the state division of one of Australia's leading and well respected real estate brands.
She is also a popular speaker and presenter, and is regularly asked to speak at some of the industry's most prestigious events, including ARPM, AREC, AREL, RELC, the REINSW Women's Conference and the Harcourts Conference.
Sadhana is also a regular contributor to a number of national real estate journals and publications.