As real estate agents and real estate agency owners, we inherently understand the importance of property sellers trusting us and our brand.
From being invited in by a home owner to appraise their property...
...To being given the opportunity to pitch for the listing.
...To you being chosen as the agent, and entrusted with the sale of their home.
...To the degree to which your advice is trusted, and the effect that has on the crucial decisions your selling clients have to make throughout the marketing of their property.
...To the pointy end of a negotiation and your seller accepting the buyer's final offer.
...To the successful property seller freely and happily evangelising to their neighbours, family and friends on what a great job you did.
Make no mistake, at every stage of your relationship with your selling clients, trust is at play.
Here's the thing.
Trust may seem somewhat touchy-feely. Somewhat intangible. But in truth, trust is governed by a far more tangible system of human behaviour that most agents and agency owners don't fully appreciate or pay as much attention to as they should.
This system of trust, when incorporated into your 'personal-brand' and/or 'corporate-brand', delivers predictable results from generating 'listing-leads', to getting your foot in the doors of 'prospective-sellers' homes and right through to your bottom-line.
Trust is king when it comes to building your brand, especially if you want to become 'locally-famous' for all the right reasons that is.
Marketing studies have found when people trust a brand, 83 per cent will recommend that brand to other people.
I'm hoping right now you're going, "WOW, 83 per cent, that's huge!!!" But hold on there's more...
Studies have also found that when people trust a brand, 50 per cent will gladly pay more than the alternative (brand) options.
OK you can say it, "50 per cent of people will choose the more expensive 'trusted-brand' option? That's incredible!!!" Sure is.
That's why you need to take note of this 'trust-system' I'm about to share with you.
Before I do that, let's get even clearer why this is crucial...
So 'brand-trust' not only impacts on you getting listings. It impacts on you receiving repeat and referral business. And it impacts on your bottom-line in terms of the fees you can charge and the marketing dollars (i.e. VPA) you collect.
More trust equals...
more listing opportunities
more listings
more VPA
more sales
more commission
more repeat and referral business
Just remember this, people have lots of choices these days. Consumer choice has exploded. So too has agent and agency choice for property sellers.
Your brand is in major competition with every other agent and agency in your area. And actually, agents are finding themselves in competition more and more with other agents from outside their area too. Competition is growing. It will continue to grow. And you must expect always, that there are new players coming.
Consumer choice all hinges on the degree of trust they have for the various options available to them.
Ok, so what that means is, if your sellers in your area trust your competitor/s more than you, you're going to lose.
Now for the good news...
Trust, as I said, is a system of behaviour. This should be read as good news because systems can be learnt and installed into a business. Such is the case with trust.
Before I detail the 2-Part-Trust-System, let's consider what trust is.
Trust is the forward facing metric of a person's expectation.
In other words, it's simply about what will happen in the future. It's about the degree of certainty.
Write this down... "Greater certainty = Greater trust". And that's why trust is all about certainty. Certainty in the future.
Give your prospects and clients more certainty and they'll trust you and your brand more.
To understand how you can give people certainty in you and your brand we must first understand the nature of trustworthiness.
TRUSTWORTHINESS AND THE 2-PART-TRUST-SYSTEM
PART 'A' -- trustworthiness is partly created through these 5 'HARD' FACTS - this is PART 'A' of the trust-system:
Credibility
Consistency
Reliability
Results
Knowledge (..and that's a BIG one)
Being 'recommended' by someone also falls under the 'hard' facts category too. (Or at least they're accepted as a 'hard' fact when the person making the recommendation is regarded as trustworthy.)
These 'HARD' facts go towards providing certainty for the property seller in terms of: "Will this agent get my property sold. And will they get me the price I want?"
Here's the second part of the 2-part-Trust-System...
PART 'B' -- trustworthiness is partly also created through the 5 'SOFT' ABILITIES - this is PART 'B' of the trust-system:
Sense of intimacy
Emotional intelligence
Empathy
Likeability
Being 'other-oriented'
Both "HARD" and "SOFT" are required to build trust.
Both are equally valuable. However...
Most agents rely too heavily on one part or the other part. It's about balance and timing.
Let's talk timing.
If you or your brand isn't currently 'locally-famous' then trying to build trust using Part 'B' of the trust-system alone will be a slow and difficult road to go down.
When people don't know a person or a brand, they're more likely to need some 'Hard-Facts' first to feel like they can trust that person or brand.
So when you're not known or not yet 'locally-famous', you must lead with Part 'A' of the system. All your marketing and self-promotion, as much as possible, should revolve around the 5-hard-facts of Part 'A'.
(Please note, bragging about how good you are, how good your service is, all the great results you've created, does NOT qualify as one of the 5-hard-facts of Part 'A'. If you want to learn more about that read this article: 3 Ways 'Locally-Famous' Real Estate Brands Engage Their Audience)
Of course once you do get your foot in the door, that is, an appraisal or listing pitch, that's when you move to Part 'B' assuming of course you have satisfied your prospect with the  5-hard-facts of Part 'A' first.
Let's talk brand itself now...
Building a 'trusted-brand' is therefore a system. It's a system of trust.
'Brand-Positioning' is a BIG part of that system.
Positioning yourself and your brand is massively crucial if you want to be able to compete.
Positioning is all about differentiating you and your brand.
Brands (agents and agencies) who have successfully positioned themselves don't have to compete. That's the beauty of positioning.
Being able to communicate your position wrapped up with all aspects of Part 'A' and Part 'B' of the trust-system is the key.
In the 2014 Edelman Trust Barometer (their 14th annual exploration of trust), 88 per cent of people surveyed stated that clear and transparent communication is the most important thing when it comes to them trusting a company.
The survey also revealed experts are regarded as the most credible and therefore the most trustworthy. That's Part 'A' at play right there.
So if you want to become the 'trusted-brand', find ways to position yourself using all aspects of the 2-Part-Trust-System.
In summary...
As I said earlier, "Greater certainty = Greater trust". And that's why trust is all about certainty. Certainty in the future.
Give your prospects and clients more certainty and they'll trust you and your brand more.
If they trust you more than your competitors, you win. Enough said.
Over to you. I'd love to hear your thoughts. Please leave a comment.
ABOUT THE AUTHOR
---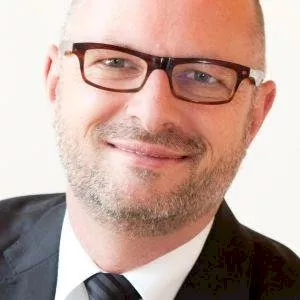 Peter Hutton is in the training and mentoring business. Peter is known internationally for creating 'locally-famous' real estate agencies. His company, Agent Brand Co, has a unique 5-Step Mentoring Programme which takes an unknown real estate agency and makes them 'locally-famous' in 120 days. Peter and his team work exclusively with owners of small independent agencies.