On Friday May 9, the weekend before mother's day, over 250 Harcourts agents, men and women, gathered at Melbourne's Southbank in their high heels to make a stand against violence towards women.
Why walk a mile and why in high heels? Sadly violence exists in our homes, workplaces, communities and schools; our objective is to raise awareness of the underlying determinants of violence. Although there is a humorous side to Walk a Mile in Their Shoes, our intention is to encourage people to think more seriously about the everyday reality faced by many in our community – to put ourselves in their shoes.
Two years ago like the rest of the nation I was saddened and gripped by the story of Jill Meagher. Like many others I firstly and wrongly assumed it was her husband who killed her. It wasn't until the full chilling events were revealed, and the awareness of the issue of violence in our communities - especially against women, that I started to think about ways to make a difference.
We partnered with White Ribbon and put forward our proposal to the Harcourts Victoria group in regards to the annual walk in high heels. The response we have had from our communities and the general public has been humbling.
Many of you reading this many not be fully aware of issues women in our communities face. Here are some facts (obtained from White Ribbon):
One woman a week dies in Australia from domestic violence
Domestic violence is the main cause of homelessness for women and children
40 per cent of women in Australia since the age of 15 have experienced violence
Nearly 80 per cent of violence goes unreported
Up to 53 per cent of women who are beaten; their children are also beaten, many while trying to defend their mothers
Every day women all over the country apply through the courts for Domestic Violence Orders against partners or husbands. These women are scared, isolated and often have kids who are also assaulted, traumatised or worse - used as weapons. How often do we hear on the news about an ex-husband killing either his ex-wife or his kids? These women, through fear of what may happen to them or their children, often don't report abuse to the police. It may be the neighbour or family member who does.
Sadly there is no fear for men around domestic violence. The excuse that many have anger management issues is not at all plausible as most of these men don't hit their co-workers, or their friends or their bosses. They only hit their wives. These wives are our mothers, daughters, girlfriends, sisters, people who work with you, neighbours - real people!
I believe that for change to occur on this issue we need to educate our youth and have the courage as individuals and as society to stop allowing men to make excuses for their violent behaviours.
The money raised by Harcourts Victoria goes towards education programs within schools sponsored by White Ribbon. Change the man, impact the problem and importantly make boys and girls aware that perhaps what they see at home is not the norm. 
To have a long-term impact on this issue we must educate the youth that violence is not the deferred option. In fact these education programs will have an impact not just on violence against women but on the issue as a whole. Research has shown that children who come from families that have endured domestic violence are more likely to offend as adults.
Andrew O'Keefe is our ambassador for the Harcourts Victoria Walk a Mile in Their Shoes campaign.
As one of the founding members of White Ribbon Australia, Andrew has been passionately involved with the organisation and an ambassador since 2004, and is a past White Ribbon Australia chairman.
"As a husband, a father, a brother, a son and a friend, it's impossible for me to sit still and accept the fact that one in three Australian women will be abused or assaulted in her lifetime," O'Keefe says.
Whether we know it or not, every single one of us knows a woman who has suffered the appalling effects of violence.
It is important to point out that the issue of domestic violence against women has a focus on men being the key perpetrators. However it is imperative to point out that many men lead the awareness campaign around this issue. The male agents who are part of the Harcourts Victoria network are examples of such men.
For these men Walk a Mile in Their Shoes is a way we can make a statement that violence against women is simply not OK, to give voice to those that don't have one and courage to those women who need it to seek help.
The walk is held annually, the Friday before Mother's day in Melbourne, and to date it has raised over $60,000 for White Ribbon.
ABOUT THE AUTHOR
---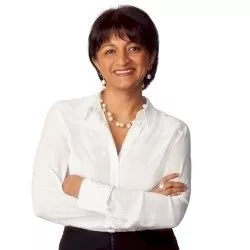 Sadhana Smiles is chief executive officer of Harcourts Victoria, the state division of one of Australia's leading and well respected real estate brands.
She is also a popular speaker and presenter, and is regularly asked to speak at some of the industry's most prestigious events, including ARPM, AREC, AREL, RELC, the REINSW Women's Conference and the Harcourts Conference.
Sadhana is also a regular contributor to a number of national real estate journals and publications.