Sydney property expert Douglas Driscoll cautions consumers not to feel pressured to buy in the lead-up to spring due to a fear of slimmer pickings or price inflation come September, saying the market is expected to maintain its buoyancy until the year end.
To help consumers feel confident about buying, here are five tips for homebuyers to use as a guide before purchasing property.
The clearance rate for houses sold at auction in Sydney is higher now (74.4 per cent) when compared to August last year (69.3 per cent).
While the housing market remains competitive, I caution consumers not to feel pressured to buy in the lead-up to spring, since the market is expected to maintain its buoyancy until year end.
Homebuyers looking to take advantage of current housing market conditions may be placing undue stress on themselves and their families, with some believing they may need to rush in and buy due to a fear of slimmer pickings or price inflation come September. However, this isn't necessarily the case.
Homebuyers should be focused on making wise choices and finding a home they know is right for their family in the long term – rather than jumping the gun.
Over the last three years, the Sydney property market has experienced no real surge in the volume of listings during the spring period.
Housing demand has remained relatively constant and seasonal buying trends such as the spring rush are becoming less prevalent.
Today's market is increasingly more predictable and less volatile and the current surge in listings is more likely a result of increased consumer sentiment in macro-economic conditions.
Since January this year, the market has remained steady and this trend is expected to continue until well into 2015, which should be reassuring for homebuyers.
Five tips for homebuyers to use as a guide before purchasing property:
Don't follow the crowd. Property is your biggest life purchase and buying when everybody else is shouldn't be the factor motivating you to move. Take the time to ensure you're confident with your purchasing decision and base your buying and selling plans on your own circumstances. If you've found your ideal home that fits within your budget don't be afraid to go against the grain.
Don't second guess the market. When researching property market conditions it is vital that you analyse market movements; homebuyers should realise they can't second guess the market as the landscape is constantly changing. You can't control the wind but you can control the sails, and this includes control over where and when you buy and the mortgage terms you agree to take on.
Consider the area you're buying into. Do your homework to find out what the growth prospects in the surrounding suburbs look like. Are there any new developments planned such as road works or transport links, new schools or shopping centres? These could point to growth in the area and have a significant impact on the value and desirability of a property over time. It's also important to understand the local demographics. While speaking to experts is important, I would encourage buyers to speak to neighbours across the street to get a feel for the community before buying.
Thoroughly research the mortgage market. Spend time researching the mortgage market and collect a cross-section of advice. I recommend speaking to at least three home loan and finance experts. The more advice you seek, the better you will make an informed choice about the right mortgage and interest rate package that works for you and whether you should opt for a fixed or variable loan. I also recommend comparing home loan options online. For instance, Starr Partners has an online home loan feature that allows homebuyers to compare loan products from 15 different lenders. Users simply input the loan type, amount and interest rate (if applicable) and the system generates a series of loan options that best match your circumstances. Visit http://www.starrpartners.com.au/home-loans for more information. Not only will this provide useful background information on your mortgage options but may assist you in negotiating a good deal on a loan.
 Don't overstretch your finances. This is imperative. Not only do you need to feel confident about the amount of finance you're taking on and your ability to meet future financial obligations, it's critical to know that you can carry the mortgage if your or your family's circumstances change. Before taking on your mortgage, speak with a trusted financial adviser who can provide unbiased financial advice and assist you in developing a long-term financial plan. Homebuyers should also allow for at least one per cent increase in interest rates. 
ABOUT THE AUTHOR
---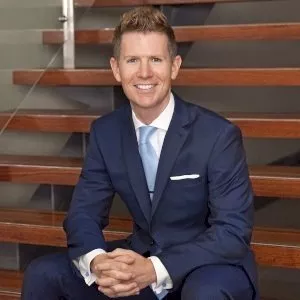 Douglas Driscoll is CEO of Starr Partners, and was named Industry Thought Leader of the Year at the Real Estate Business Awards 2016. Originally from the UK, Douglas is widely regarded as one of the industry's preeminent thought leaders, and is lauded for his dynamic and pioneering approach.