It's spring and the real estate market is humming along. What can we learn from the savvy segment of the market called 'baby boomers' and their approach to making the greatest return on investment from the property market?
Baby boomers are getting smart and using their property like shares and 'buying up' or setting up small portfolios of property to support their passive income stream.
So who are the baby boomers? For our purposes, we'll use the government definition of this age group as those born between 1946 and 1961; which, as of December 2013, accounts for 18.2 per cent of the total population, according to Australian Bureau of Statistics. That's a large group of Australians!
In regards to property strategy, the baby boomer generation typically bought their home and then saved to buy an investment. Along the way they have paid back principal and interest, and are now in a position where they may be asset rich and cash poor. So what are they doing to create an opportunity from this apparent obstacle?
We are seeing them downsize from big-sized family homes (four-plus bedrooms) to smaller three bedrooms, with just enough room for visiting friends, kids and grandchildren. By trading in their big house in VIC or NSW and moving to a three-plus-bedroom house in a regional coastal location, QLD or TAS, baby boomers can often make a tidy 'profit' and/or inherit equity that can be used for their next property.
Home ownership is a key component of any retirement strategy. The profits generated from the sale of the family home should be enough to buy a small house or unit/apartment using cash. That avoids a mortgage or, if they do arrange financing, they're using their savings to supplement the amount available to buy and make a cash purchase.
Selling a home owned for 20 years and using that profit to fund the portfolio is one strategy that works.
One of the largest value retirement projects planned near Cairns is the 143-bed Oasis Retirement Village in QLD at an estimated $180,000,000. Research shows that most baby boomers have owned/mortgaged their house for around 20 years. For the suburbs near this development, particularly Bentley Park's four-bedroom market and Gordonvale's three-bedroom market, the increase in house price from 1994 to 2014 is 158 per cent and 154 per cent respectively.
This suggests that should baby boomers in the area sell their current property, they have a high chance of profiting and funding a new, smaller home plus possibly having a head start in generating income by building an investment portfolio.
In turn, the older, sold properties are generally entry-level-type homes for the areas they are in, and are attractive to first home buyers; particularly as buying second-hand property in some states results in exempt stamp duty. Many first home buyers will often pay more for a property than an investor in order to secure a property.
Looking at the median price growth in all capital cities over the past 20 years clearly demonstrates the asset growth that can provide the financial catalyst for downsizing and then reinvesting the surplus to bolster income.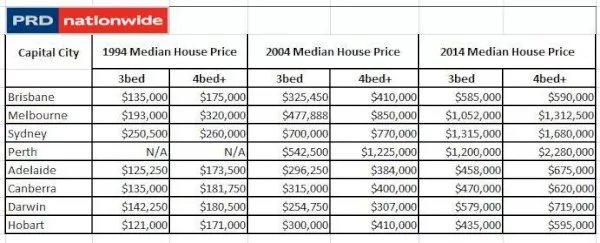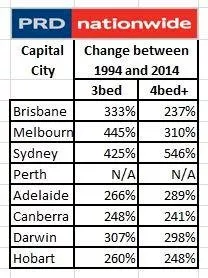 Source: PRDnationwide
ABOUT THE AUTHOR
---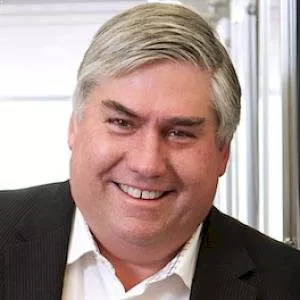 Tony Brasier is the chairman and managing director of PRDnationwide, a wholly-owned subsidiary of Colliers International, where he is responsible for the growth and strategic direction of the Australian business. He was the CEO and chairman of Colliers International Holdings (Australia) Limited between 1999 and 2009.