Ray White Robina provides its clients with personalised, complimentary services from day one.
On settlement day, the agency delivers a gift basket to the new homeowners along with a yellow Ray White bow on their front door.
Mr Burgess takes us through the complimentary after-sales service that ensues over the next 90 days.
After-sales service
Firstly, a handyman attends the property at the end of the first month.
"He'll talk about anything the [homeowners] may need, anything that might need fixing up like loose doors or fly screens on windows etc," Mr Burgess explains.
"They stay there for an hour and attend to anything that new buyers may want to have done."
After two months of purchasing the property, the agency then provides the homeowners with a free landscaping service.
In offering this service, the agency tailors it to the needs of their clients, taking into consideration the type of property they have. For example, if the homeowners don't have a lawn, the agency will arrange for a handyman to attend the property for a second free hour.
On day 90, an agent from the Robina office attends the property with a discount voucher booklet.
"It gives them discounts to various services in the community, whether it be restaurants, coffee shops or some handymen that might be able to come back and do some additional work on the property if they need it," Mr Burgess says.
Mr Burgess says that this is a long-term approach in which his agency invests in an ongoing relationship with their clients.
"It actually solidifies the relationship between the new vendor and the agent and the agency," he emphasises.
"The idea is that once they get to day 90 and we talk about how they'd like for us to communicate with them from that point on, we can start building a relationship over a number of years.
"We help them understand what's going on in the marketplace and the community, and hopefully this gets us to the stage where they come to us when they do choose to sell."
Concierge service
Mr Burgess says his agency offers further complimentary services to their clients through Ray White concierge.
"It helps organise things [for clients] like power and phone and gas," he says.
"At the same time, if vendors need help with storage in the sales process, we provide a service which helps vendors to declutter their home – all the additional items that potentially may get in the way of being able to show the feature of the home to potential buyers."
"It just helps to facilitate the whole process."
Mr Burgess adds that the concierge service also extends to insurance for clients.
"Once a property is under contract, it's at the risk of the buyer. So for that first 30 days, a lot of [clients] don't realise that the property is actually at their risk," he explains.
"If a purchaser buys a property through us, they get their first 30 days of insurance free of charge."
[Related: http://www.realestatebusiness.com.au/blog/10512-the-future-of-real-estate]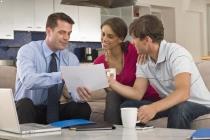 Written by

Francesca Krakue