Here's how you can establish solid mentoring relationships to help you grow your business, without breaking the bank.
When you're starting a business for the first time and have little or no experience, it can be a lonely and daunting challenge at times. No doubt you have a few people you can go to for some casual advice, but this will not be enough. There will come a time when you need a proper, professional mentoring team you can call on for important strategic advice.

But finding a team of mentors, or even just one mentor, is easier said than done. There are mentorship programs available. However, these tend to involve a significant financial investment, and as a small business owner, you may not have adequate funding to dedicate for this.
Here are our top tips for sourcing a business mentor or two, and putting together a team of advisers who can help you grow your business.
Tip 1: Look within your own network
The first place to look is in your own network. Look at your colleagues, friends and connections. These are people you already know and are often a valuable source of information. If they're unable to mentor you personally, there's a good chance they will be able to recommend you to someone who can. Don't be afraid to reach out and ask.
Tip 2: Expand your current network
Networking is one of the best ways to form valuable business connections on different levels. Attending networking events is the obvious first step, but try your hand at online networking too. LinkedIn is the best social media platform to use for building new business connections and can be a short cut to finding a new mentor. A mentor is not going to come and seek you out. You will have to find them.
Tip 3: Start small
Once you have a potential mentor, start a trial period to see how you work together. This needs to be a mutually beneficial arrangement, and you will have to pay some kind of fee to your mentor or repay their services in some way. Trial the mentoring and see how it goes for the both of you. If the mentor you've found is not adding value to your business, don't be afraid to let them go and look for someone who uses a different approach.
Tip 4: Look for similarities
If you run a real estate business, the best choices for a mentoring team are naturally going to be people who have successfully run real estate businesses in the past or who are still running a business. If they are familiar with your particular industry, they are going to know how you can grow your business, will be able to review your business strategy and can show you where to avoid mistakes that they perhaps made in the early days.
Tip 5: Gather a mix of talent
While having an industry expert on your team will be invaluable, it's also great to include a few people you can speak to who can help with broader, more general ways to grow your business. Finding a mixture of people with differing talents can fill in the gaps where your knowledge, or the knowledge of the other mentors, is missing.
Using your mentoring team
Once you've established a mentoring team, meet with them regularly so you can make use of their knowledge and experience. Having a mentoring team on your side opens up the doors to endless opportunities, shows you where you can make advances, and allows you to see and prevent significant errors.
ABOUT THE AUTHOR
---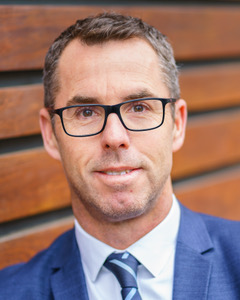 Justin Steer is CEO of both Commission Flow and Campaign Flow.
Both companies were founded with a vision to change the way Real Estate Agency Principals access the finance they need to grow, with an innovative, secure and flexible approach.
Justin has been an active participant in the real estate industry for nearly 25 years.  
In his spare time, Justin can usually be found swimming, cycling or running as he prepares for his next Ironman event.