Property management is a challenging role so it's important that property managers are treated well. In this blog, Kelley Seaton explains her top 10 tips on keeping staff happy. 
Blogger: Kelley Seaton, Director, Property Management HQ
Do you remember your first job in real estate? Did you have experience and education to land that job? What do you remember the most? From my own personal experience regarding my past jobs in real estate, the things I remember most were; my bosses, my colleagues, and my clientele, and their friendships and the experience.
Work isn't necessarily about the job itself - it's about the friendships you make along the way and the experience you gain during the process and the lessons that you learn to become a better person. Let's face it, everyone remembers the boss from hell, the one that you gave only 70% of yourselves to, because as an employee you received no recognition, no praise, no incentives and no rewards from your boss.
As a boss, if you haven't already done so, you really do need to meet with your team and see what makes them tick, what makes them work the best so they can and deliver 110 per cent each and every day. For some people money makes the world go around. But surprisingly enough, I interviewed all of my staff, and not one of them mentioned the word money.
When you break down a normal working week in many cases we will see that we spend more time in our workplace, and with our work colleagues than at home with our loved ones. So essentially you need to ensure you have created a happy and positive work environment for your staff.
Happy staff = happy clients. When staff are happy their work load improves, and they enjoy coming to work. Happy & relaxed staff tend to deal with their job tasks & those more tedious clients properties, in a more professional and well thought out manner.
My Top Ten Tips to Keep Staff Happy Are:
Laughter - One of my staff said, "Every so often just be insane to make your staff laugh - laughter is good for the soul and staff morale". I feel that you don't need to be a class clown, but a more relaxed work place, rather than a dictatorship will always gain the most from your employees. If you take a relaxed approach with your employees your demeanour is bound to rub off on them and the environment in the office also. Do things for FUN! And OFTEN!
Change negative feedback into a positive - Staff are only human & mistakes can happen. When a staff member makes a mistake, they are already low in morale and hard on themselves about the mistake and really dislike it when a boss is being critical of them, as this only makes them feel worse. No mistake is a mistake if it can be rectified. Instead educate and help your staff understand how to do it better next time, instead of telling them where they went wrong. I allow my staff to make mistakes, but I do encourage, try not to make the exact same mistake twice. Give positive feedback often!
Recognition and praise - When you show your staff that you recognise and praise them for the extra effort they put in, they will feel appreciated and acknowledge this, by giving more of themselves for the company. Acknowledge jobs well done! Little ways of showing staff you do notice, and that they are appreciated are: shouting them lunch, allowing them to start an hour later, or give them an early mark one day, a small thank you note, some flowers, a monetary bonus, or even a gift card to their favourite shop.
Reward or incentives - Everyone loves being rewarded. Set some in office goals with rewards, to ensure staff have mini-milestones to reach, intensify staff when they reach that goal. It could be as simple as calling 10 owners per week for a no news call. Set some monthly KPIs for rewards!
Constant training and motivational seminars - Help to keep morale in the office. It increases knowledge of staff, and allows them to work well together as a team at such seminars or conferences, to create a great team environment.
Be social - Hold regular team events that are social and try not to talk about work! Encourage Team events such as dinner, or lunch. We shout our team to lunch, every Wednesday. Firstly, so that they actually do take a lunch break, and secondly, to give them an opportunity to talk about themselves on a social level, and not take up valuable time in the office chatting all day about the past or upcoming weekend activities.
Goals - Plan your office goals as a team, allow your staff to grow & expand, and plan future goals together. By doing this, staff can see their future within the workplace. To strive for bigger or better things and increase their own personal goals.
Be Loyal & Trustworthy - Trust in your staff will show them that you have faith in their skills and also in turn help to increase their confidence.
Respect - Treat all staff with equal respect as each other.
Be consistent & be a good listener
All in all, I don't believe you need experience and education to commence in the industry, you can get that along the way. I do believe that you need the right people – with the right mindset – and you will always have happy staff and a happy workplace.
ABOUT THE AUTHOR
---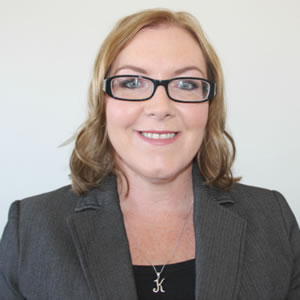 Kelley has been involved in real estate property management since 1994, and without even realising it, is now in her 20th year in the industry. It was in 2009 that she decided to start her own agency, Property Management HQ, which operates on the Central Coast and Hunter Region of NSW; and five years later Kelley opened another office, PMHQ Property Management, in East Brisbane. Her offices specialise in purely 100 per cent property management - focusing on this field alone is fun, challenging and rewarding all rolled into one. Just recently Kelley was a conference speaker at the Leading Property Managers of Australia (LPMA) Conference on the Gold Coast.
Make sure you never miss an episode by subscribing to us now on iTunes
And dont't forget to leave REB a review!

Listen to other installment of the Real Estate Business Podcast