Last month I wrote about the positive effect an annual company-wide conference can have on aligning your team. This month I'm going to share with you one of the highlights of our company day, held in the first week of August.
Every second year, we invite a guest speaker to share their story. 
In past years we've had the opportunity to welcome clients, business consultants and on one occasion, the father of lateral thinking and 'six hats' fame, Edward de Bono. 
In each case, much value was gained by everyone in the audience. 
This year we were privileged to have the inspiring young Victorian Daniel Flynn speak to us. Daniel is a co-founder of the Thankyou Group (previously Thankyou Water).
Daniel was 19 and partway through a university degree when he learnt the simple fact that over 800 million people around the world do not have access to clean, safe drinking water, while in Australia we spend over $600 million every year on bottled water alone. 
With further research and a solid ambition to make a genuine difference, Daniel and two friends started a company with the overarching goal of funding projects around the world that would help those far less fortunate than all of us here in Australia to access clean drinking water.
In six years Daniel and his colleagues have come up against a constant stream of obstacles. 
Throughout this journey they have continued to persist, learn, innovate and ultimately succeed by remaining focused on their goal. Through the help of mainstream media, innovative use of social media and the odd guerrilla marketing stunt, Daniel and his team have been able to convince the likes of Coles, Woolworths and 7-Eleven to stock their water (and many of their now-expanded range of products such as muesli bars, cereals and soaps). 
In the case of Coles and Woolworths, on the morning of each meeting, Daniel and his team were able to fly a helicopter above each of the respective corporate headquarters with a huge sign bearing the words "Hey Coles, thank you for changing the world! (if you say 'yes')".  How could they say no?
Daniel and his team have provided clean, safe drinking water and hygiene to tens of thousands of people around the world in just six years. Who knows the impact it will make over time!
The feedback from Daniel's session was overwhelmingly positive. 
Not only did his story provide great perspective, it also provided us with a few key messages about the importance of teamwork, persistence, personal motivation and having a purpose. 
There was no "ra-ra" motivation, rather it was a genuine story told by a humble but extremely capable and motivated individual who is making a big difference.
I encourage you to learn more about this company and if an opportunity arises, have Daniel come and speak to your team. For more information, go to www.thankyou.co
ABOUT THE AUTHOR
---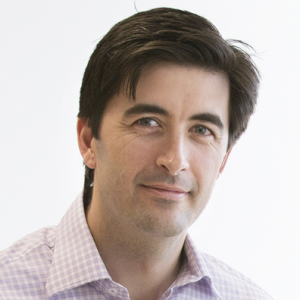 Alister Maple-Brown is the CEO of leading property management software provider, Rockend.  After completing his BA in both Australia and the United States he worked on Capitol Hill in Washington, DC followed by two years as an analyst, trainer and business development manager in the worldwide sales division at Inktomi, a rapid growth software business in Silicon Valley, California.
Alister has been with Rockend since 2001 and as sales manager grew new business revenues by 40 per cent over the years before moving into the marketing team until 2007. For the following three years he led the product development team before moving to the role of general manager of PropertyTree, Australia's first cloud based property management solution. In mid-2012 Alister became CEO of Rockend.
Alister is dedicated to the development of innovative technology which will become even more central to Rockend's future progress in the property industry.