I believe motivation comes from within. Motivation is not always easy; a famous speech that has motivated millions of people around the world might not do the trick for you. It really is up to each person to determine what motivates them most.
For instance, I'm a big fan of the HBO TV series Entourage, which follows an actor deemed to be the next Hollywood 'big thing' and his three friends, and while this might not work for everyone, I can always find a quote, scene or joke from an episode to help motivate me to achieve my goals.  
My workstation is filled with my desires for the year, professionally and personally. 
Being part of the LJ Hooker network means incentives are commonplace. This year my goal is to get as many 'keys' as possible into the Audi Summer Sprint, which will give me the opportunity to win a brand new Audi! Not a bad excuse to get out there and work hard!
Personally, I want to go on a holiday to Hawaii this year and so my motivation is a bunch of beach images and Hawaiian snaps on my desk to keep me focused on my goals. Every morning when I sit at my desk I look at these images that drive me to work harder. 
This visualisation ensures that I see my goals are within reach. Without this you can lose focus of what it is you set out to achieve.
I also have my numbers for my team in front of me that get updated each month so I can track my progress and improvements. Knowing what routines are due, what reviews are outstanding and how many maintenance jobs we do per month is important for me to know how my properties are tracking.
I have found that it is important for me to find what it is that drives me and let someone else know. If someone close to you will push you to achieve these goals, and you feel you are accountable to this person, of course you don't want to let them down, so not only will you push harder, you have more chance of reaching your goals. Don't be afraid to tell someone you work with what it is you want to achieve - chances are they'll help you get there in some way. 
We are already a couple of weeks into 2015, and if you don't know what you want to achieve this year, you're behind your competition because many other agents are already out there working for their holiday to Hawaii or their brand new Audi as well… 
ABOUT THE AUTHOR
---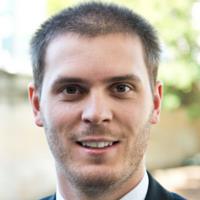 Justin having joined the team at LJ Hooker Parramatta in 2011 has proven his value to his clients.
His fresh, professional, and friendly approach, along with his immaculate attention to detail and incisive advice means Justin's clients are assured they're in expert hands.
Currently working as a Senior Property Manager, he has a portfolio of over 500 properties that he manages. Justin is the main point of contact for the landlords within this "pod structure". He is then supported by a Property Manager and a Property Officer.
Justin's passion for real estate shows in his results. Being awarded LJ Hooker NSW/ACT Property Manager of the Year 2013-2014.