Last month I took the time out to head over to Melbourne for the annual LJ Hooker Summit with my colleagues.
I look forward to this conference every year. I use it as time to reflect on what I have going on in both my business and personal life.
It's always the perfect blend of inspirational and aspirational. We get to listen to amazing speakers, learn from top performers in our industry and network with others in our LJ Hooker family – plus have a load of fun doing it!
I always come back feeling refreshed and full of great ideas to help our department run smarter, more efficiently – and ultimately, what we learn helps to set us apart from our competitors. 
So what three things from the #ljh15 Summit really stuck out in my mind?
Healthy body, healthy mind – Now, this isn't something new to me; the concept that if you are fuelling your body with nutritious food and exercising that you will benefit from a sharper mental state makes sense. However it still amazed me how many of the key performers were talking about this. I know from personal experience that if I am eating clean and regularly exercising, I perform better at work. No one is expecting you to run a marathon or never eat a burger again! Just try monitoring your intake, make healthier choices and get your body moving in some way every day – you will see the difference!
Culture – The leadership portion of our conference really dived into the idea of creating a culture in your office that people want to be a part of. There are all sorts of things that can be done to do this – one suggestion  I thought had great merit was to sit down with your team and talk about what makes you want to come to work, what would help make your day enjoyable and perhaps any issues there are and try to resolve them in a neutral way. You may not be a manager or a licensee, but you can spark the change! Smile in the morning, say hello to everyone and be positive.
Social media – I don't think I listened to a single speaker who didn't mention the words Facebook, Twitter, Instagram ... it is the age of social media, people, and if you don't run with it you will be left behind! This is how people want to communicate, so get on board. If you're not sure where to start, then get along to some training: there are plenty of courses for small businesses. Your office, at the very least, should be on Facebook. It is an amazing platform for telling the world about what you are doing and how awesome you are at it. People want to do business with cool, fresh and up-to-date companies. You need to be on trend! 
So, get along to your next brand conference or the next state REI conference. Investing in yourself is investing in your future.
ABOUT THE AUTHOR
---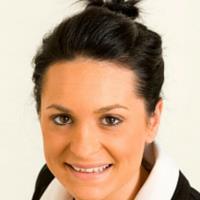 In the 9 years Kaylee has been in the real estate industry she has worked her way up through the ranks to become a senior property manager. She has been with LJ Hooker City Residential, WA since 2007. In those years she has been given the best training in the industry which has enabled her to give the best possible service to her clients.
Kaylee is very proud of her induction into the exclusive Captains Club which ranks her amongst the elite in LJ Hooker. Just recently, Kaylee was award a Multi-Million Dollar chapter induction that again highlights her dedication to her clients.
Make sure you never miss an episode by subscribing to us now on iTunes
And dont't forget to leave REB a review!

Listen to other installment of the Real Estate Business Podcast