Are you paralysed by the fear of networking? Then allow me to let you in on a secret that will make you laugh.
Getting motivated
If I have to do something I don't particularly want to do, whether it be administrative work, public speaking, writing, house work, or (of course) networking … I pick up my phone and select my "You Got this Gurlllll" playlist.
If you're wondering what that has to do with networking, it's simple. I learnt long ago that everything you do is a choice and a mental process. You can either choose to fear a networking event, or you can do what I do now and listen to some great music or an awesome podcast to get yourself in the right mindset. Once you're in the right mindset, all that's left to do is walk in and do it.
Perception is where it's at
For those of you who haven't read Stephen R Covey's classic 7 Habits of Highly Effective People, you need to do it ASAP. Or you can do what I did, and listen to the audio book. I've listened to it 13 times now, and I know I'll listen to it again.
7 Habits of Highly Effective People talks about mindsets in terms of perceptions. Your perception of networking may be that you'll walk in, stand awkwardly in a corner, and talk to no one because no one will talk to you. Sound familiar? We've all felt that way about networking before. But that doesn't have to be your perception. Because the cool thing about perceptions is that you can control them.
Since learning that my perceptions were something I can control, my perception of networking has changed. Sure, I still perceive networking as something that can be daunting. But I've also learnt to perceive it as a great opportunity for me to go into a room where there could be at least five potential investors that I can speak with. And that's not a daunting prospect – it's an exciting one!
Five extra networking tips
Once you've worked on your perceptions of networking, you may also like to follow my other top five tips for networking events.
They are:
Wear a name badge with your branding (this makes both you and your brand more memorable and recognisable)
Wear a jacket that has pockets, with one pocket full of your business cards, and the other pocket ready to be filled with the business cards you collect
Don't hold your mobile phone or a coffee in your hand (your hands need to be free to shake the hands of the people you meet and to give and receive business cards)
Don't spend more than five minutes with one person, and try to meet as many people as you can (it's definitely a case of the more the merrier in networking)
Follow up the people you meet with an email or phone call and ask if you could meet for a coffee to learn and understand more about their business (showing an interest in people is a great way to establish a relationship)
Take the networking challenge
Of course, all this advice isn't much good if you're not going to put it into practice. So to help you get over the fear of networking and become a networking king or queen, I challenge you to attend every business networking event you're invited to or hear about for the next month.
If you are still a little too freaked out to go to a networking event with your peers, try going to an event that's not related to your industry. Chances are, you'll never see these people again, so it really won't matter what sort of impression you make. How's that for low pressure?
Your say
Do you have a top tip for overcoming the fear of business networking? Then I'd love to hear it! Let me know in the comments below.
ABOUT THE AUTHOR
---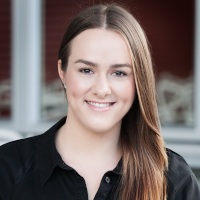 Jess Mazzocato began working in property management in 2008. At just 20 years old Jess was the senior property manager and department manager for a large franchise company.
In March 2014 Jess started a property management specialist company and grew her business from zero to 403 properties before merging her business with an industry leader to create Edge Property Agents in February 2016.
Jess has a strong belief in customer service, education and communication. She works hard to make the property management sector be seen as a professional force in its own right, eliminating the outdated view that PM is an add-on to a real estate sales office.
Make sure you never miss an episode by subscribing to us now on iTunes
And dont't forget to leave REB a review!

Listen to other installment of the Real Estate Business Podcast