The great debate of the 5am club: I have to say, I am a fan. I was never a morning person, but I have forced myself to become one and have never looked back.
My typical day starts at 4.45am. As soon as my alarm goes off, I put in my headphones and listen to my 'pump-up song' or a motivational speech (hello Eric Thomas). I then go for a 30 minute walk; it's not to work out, it's just to move my body, clear my head and set my intentions for the day.
I come home, have a green juice, shower, eat breakfast and am in the office by 6.30am.
The world is a quiet place in the morning; it allows me to think and gives me time to work on what is important. I am able to do this from 6.30 – 9am before the day interrupts me.
You might think reading this article is a waste of time because it bears no relation to property management, but actually, it does.
I truly believe mindset is everything. For me, getting up at 5am is about discipline. I control how my day starts and I then have control over how the day will run and end.
Think about a bad day: it probably starts in the morning. Your alarm doesn't go off, you spill the orange juice everywhere, you break something, you have a fight with your partner. Your day then goes from bad to worse; traffic is bad on your way to work, then your computer is slow, then an appointment is cancelled at the last minute… I could go on and on.
My point is that the 5am club, for me, is gold. It sets my mentality for the day and there really isn't much that can go wrong between five and 7am.
I encourage everyone to try it out for at least two weeks. My biggest tip is to get organised.
The only way I can get up at 4.45am consistently is to prepare. I spend my Sunday getting ready for the week ahead: I prepare all my meals, prepare and freeze my green juice bags and write a list of the things I want to achieve, both on a personal and a business level. I also go over my diary and look at the week ahead; this allows me to get into the head space of being organised and in control.
Perhaps find a friend who is already getting up early or wants to, then you can call each other. This will keep you accountable and motivated.
Also, ensure your coffee machine is working for day one. It will be tough, but totally worth it. It's life-changing, I promise.
ABOUT THE AUTHOR
---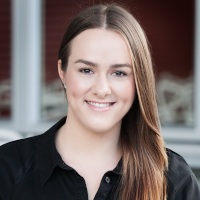 Jess Mazzocato began working in property management in 2008. At just 20 years old Jess was the senior property manager and department manager for a large franchise company.
In March 2014 Jess started a property management specialist company and grew her business from zero to 403 properties before merging her business with an industry leader to create Edge Property Agents in February 2016.
Jess has a strong belief in customer service, education and communication. She works hard to make the property management sector be seen as a professional force in its own right, eliminating the outdated view that PM is an add-on to a real estate sales office.
Make sure you never miss an episode by subscribing to us now on iTunes
And dont't forget to leave REB a review!

Listen to other installment of the Real Estate Business Podcast