Creating wealth is a lot of fun, but it is also hard work, particularly when you are not sure how to go about it, writes Sasha Hopkins.
Understanding how to use certain tools to create wealth is the best way to achieve success quickly, and compound growth happens to be one of the tools that can spur you on to financial success with a relatively small investment that expands into something great.
After your initial investment, you simply manage your property, allowing it to increase in value thanks to the concept of compound interest.

What is compound growth?

The simplest definition of compound growth is to recognise it as 'growth on growth on growth'. Or 'capital growth over multiple properties'. You take something small and you grow it into something huge.
The idea is to begin investing so that you can achieve the kind of financial growth that you are looking to get. Investing in property is the perfect way to achieve wealth through compound growth.

How does interest compound?

Although interest rates on savings accounts vary, the following scenario gets the point across and how it works for property with capital growth.
For example, you have a bank account for savings at 10 per cent interest and you've invested $100 in it. After a full year, you earn $10 in interest, leaving you with a balance of $110. After another year, you will earn another 10 per cent interest on the $110.
Each year that you allow the money to sit, you will earn a higher sum of interest as your money keeps compounding into a larger amount.

What about property investment?

Let's imagine that you purchased a property for $400,000. During the first year, it grows at 8 per cent. As a result, your property has grown by $32,000. Each year that you keep the property, your investment continues to grow at the same rate of 8 per cent.
During the second year, your $432,000 property grows to $466,560, enabling you to be in a position to buy another investment property. Now, you have two different properties, each of which is increasing in value (compound growth) and earning you profits that you can use to purchase additional investment properties.
While these numbers are just for example purposes, you can easily see that the potential exists to grow a huge property portfolio that is worth millions of dollars. By year 10, you could easily have a property portfolio worth five million dollars. As you continue to realise an 8 per cent growth rate on its value, your portfolio is generating $400,000 in additional equity.

As you continue to hold on to your property, the value of your investments compounds year after year after year, creating an amazing accumulation of wealth that is all yours after you sell a few properties to clear your debts.
Just think about the simple fact that owning multiple properties can produce a steady stream of growth and cash flow as rent also increases over time. You started with only $50,000 as a deposit and bought a property worth $400,000, but after only 10 years, you have five million dollars in total assets. It could be even more, given the right scenario.

How do you get started?
In order to become a successful property investor, all you need is to:
Be excited about the idea;
Have the proper mindset;
Secure an initial sum of money for your first investment; and
Find professional assistance for the guidance you need to get started.
Property investment provides a powerful method of creating wealth due to the inherent potential to grow your assets through compound growth. Not only do you have property equity, you also have a steady cash flow from rental income. It's your choice whether you want to retire and live off this income or continue to invest it and grow your net worth for the future.
ABOUT THE AUTHOR
---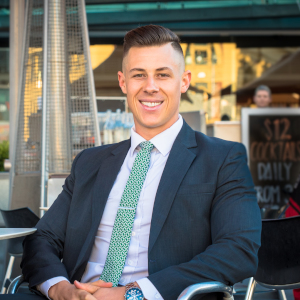 Founder and CEO of The A Team Property Group, a fast growing property investment mentoring company.
Sasha has 22 properties in his portfolio valued at over $9 million. He mentors others to do the same using his bespoke 3-step property formula.