Is it possible to be a super successful real estate agent and also maintain a healthy and rewarding life outside of work?
The answer is: yes.
However, it does require both planning and prioritisation. The first step is to understand your personal definition of success. I have used the scenario outlined below as an example.
There are two agents, Jane and Peter.
Jane sold 50 properties and made $200,000 income last year. She works five days a week, keeps fit, spends plenty of time with her family and goes on three holidays a year. Jane loves her meditation and tennis as well as socialising with her friends.
Peter sold 110 properties last year and made $440,000. He has plenty of money; however, he is feeling burnt out. Peter rarely sees his kids, and his relationship with his wife suffers as a result of the excessive hours he spends working. He has poor health due to poor eating habits and no exercise. Peter blames the fact that he has no time.
So, even though Peter makes more than twice as much money as Jane, I would argue that Jane is the more successful of the two agents. What's the point of winning real estate awards, and earning all this money, if the rest of your life is in bad shape?
If I am honest with you, I feel this is one of the shortcomings of our industry. We always put the agent who makes the most money up there on a pedestal as being the most successful, despite some of these individuals leading a less fulfilling life outside of work. Burnout rates are excessively high in this industry, and the lack of a healthy work/life balance can be blamed as the reason.
Below are a few things that work for me.
I have a life coach who forces me to continually reassess my life and tracks how I am progressing. I book four holidays a year, all in advance. I exercise a minimum of four days a week (two days with a trainer). I meditate daily, and I have structure in my days ensuring an organised diary. I make it a point to put my three kids to bed at least five out of seven nights. For me, family and health are my absolute priority, and these are more important than work — always.
The other thing that works for me is having an amazing support team. I can put my phone on divert at any time to them, knowing they will give service at or above my own personal standards. As a team, we meet daily; review our goals; and plan daily, monthly and yearly goals. My team is like my family; I care about their lives and their careers. Because I treat them well, I have long-term employees, and I have assisted several people grow from being support staff to successful standalone agents.
My advice to you is to work out what you love and what makes your heart sing outside of real estate. Real estate is a rewarding career that can fund a fabulous life. Real estate can also run you into the ground if you let it. After more than 20 years in this job, I still love it, and it is because I understand the saying "work to live, opposed to live to work".
It's never too late to rebalance. Start planning today. Get equilibrium back into your life.
ABOUT THE AUTHOR
---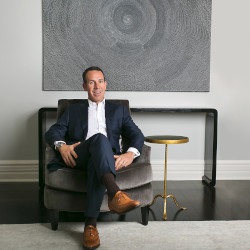 Positive, enthusiastic and experienced, Piers van Hamburg has been achieving great results for his clients for almost two decades.
As the director of McGrath Neutral Bay, Mosman, Northbridge and Chatswood offices Piers has built a reputation for service excellence.
Piers is consistently ranked in the REB Top 100 Agents ranking.