Mindset is everything! I can't say this enough. Wake up early. Eat a good breakfast. Look after your body, as it should be your number one investment. You are the creator of your own destiny, and if you want to succeed, you need to succeed with yourself and your health first.
Over the past four years, I have had the fortunate opportunity to walk through so many fantastic properties that have left footprints in my mind that will stay with me for a lifetime. A passion for property was evident from day one on the job.
Starting off in real estate, I knew this job was something I would succeed in. I knew that I had a passion for property, a passion for the story behind every door and under every roof. I knew that this was the right path for me.
After working in various different roles, I soon realised that I loved business development and Rent Roll Growth. Meeting vendors and finding out what their goals and ambitions were, what their next step was to take in life and how I was going to be a part of that. I absolutely loved the opportunity to find the right tenant for their property while they take the steps to grow their portfolio. It just sat right with me.
Here and now 
Being a successful BDM means being present, being in the market, having the right mindset and showing your team your passion for what you do. Every day I work hard to be present in the marketplace with social media marketing, profiles over the internet; to attend local community meetings and networking events; and to meet valued and respected icons in the local area. When I meet anyone, whether if a landlord, tenant, buyer or vendor, they instantly recognise my passion for property and my desire to hear about the story that's behind every front door.
Your team should understand what your role is, and take the time to explain and show them what you do at rental appraisals, meetings, networking, etc. Update them as to what the market is doing, tell them what your strengths and weaknesses are so they can help and support you.
We have frequent training as a team to educate us on how to be better in every role that we do and how to be better leaders and managers. Being part of a great team that support one another, having education and training that is on offer whenever you would like it, plus a group of genuinely great people means a fantastic work place that you love to be a part of every single day.
ABOUT THE AUTHOR
---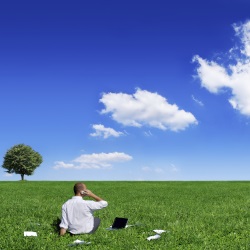 Taylor Gaudry is a business development manager at Laing+Simmons in Wentworthville.