We hate to break it to you, but your trusty sidekick is a bit of a drag. Yep, we're talking about your binder. That big ol' leathery monstrosity you've been presenting your proposals in for yonks now.
And just like a peach-coloured kitchen circa 1989, they might have been good in their time, but now they're in dire need of a makeover.
Vendors want proposals that are accessible and easy to understand. Something informative — but not too overwhelming — that they can share with their family. Something that offers a clear understanding of your results and your selling power.
They don't really care about the volume of paper or the standard of printer ink.
Here's how much easier your life would be if you gave your sidekick an upgrade with Proply.
Save a bunch of time
We all know that proposals take a lot of time to pull together. With the integration of useful tools like PriceFinder, Google Maps and Domain, half of your work has been done before you even get started.
Simply type in the address of the property and get Google Maps to pinpoint the location and auto-populate all the relevant data for you. PriceFinder will also show you comparable sales in the area for a clear understanding of what you're up against.
Better yet, once the proposal is sent off and the vendor accepts it, the software will create a microsite that integrates with Facebook, LinkedIn and Twitter. So, you can share the listing with your network immediately — no wait needed!
All with minimal effort from your end. It's incomparable to what a dusty old folder can do for you.
Deliver the 'wow' factor
As real estate agents, you don't need us to tell you that if it looks better, it'll sell better. It's why we spend so much time rearranging throw cushions.
The proposal not only looks great but is fully accessible and interactive as well. Your vendor can carry it in their back pocket, or browse through it at brunch over their avocado toast. Most importantly, they can share it with their family and loved ones wherever they'd like.
It's beautiful, user-friendly and informative, and it fits right into a modern lifestyle. Talk about "wow".
Focus on the stuff that really matters
So, now that collating your proposals takes a fraction of the time it used to, you've got heaps more freedom to focus on the things that matter.
Chase more leads, get a better understanding of a particular area, have real-life interactions with your vendors and foster some important relationships. All the things we wish we could do if we just had a little bit more time.
ABOUT THE AUTHOR
---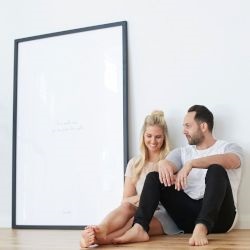 Geoff is the founder and CEO of Proply.