The COVID-19 crisis hasn't caused the real estate revolution it has been purported to have, according to one of Australia's best real estate agents.
Speaking on a recent episode of Secrets of the Top 100 Agents, Australia's second-highest ranked agent in REB's 2020 Top 100 Agents, Clarke & Humel's Michael Clarke, considered that despite the challenges brought about by COVID-19, "fundamentally, the nature of real estate has not changed".
"From my perspective, it's really reinforced to me and my team that what we are paid to do is get the absolute very best price that we possibly can for our vendors in the current market," he highlighted.
Calling it an evolution and not a revolution, Mr Clarke said the technologies that have been deployed more widely since COVID-19 became an issue aren't all that new to the industry.
"We've been doing all of that type of thing for years," he commented.
"It's routine for us to be selling a property to somebody from either out of the area or overseas; historically, you've done Facebook walkthroughs [and been] reliant on high-quality video, or the 3D floor plans."
While people are more reliant now on that technology being cutting-edge, Mr Clarke is of the belief that it's the quality of that communication and conversations that is still key.
He said: "Whether they're on the phone or whether they are on Zoom, whether the vendor reports are being emailed through and then we're chatting them through over the phone, that quality of communication remains the most important thing.
"It's what you are saying and it's how you are saying it.
"The quality of the information that you are providing people [with], that hasn't changed at all. It's just the way that we deliver it."
Most fundamentally, Mr Clarke said all real estate agents should be thinking to themselves: "What do I need to do to today to move this buyer closer to making an offer? What do I need to do today to give my vendor the information that they need to know to be able to make a decision, if they should be making it today?"
He explained: "If we are really, really hyperconscious of making sure that we know the properties that are on the market that we are competing with, if we know what's happening in our microcosm of the world, and how things are being effective there, then we are in the best position to make sure that whether the market goes up, down or sideways in six months, that at least for this moment in time, we're giving the best quality of communication and the best advice.
"I think this is our golden opportunity to be able to reinforce to the people that we are privileged to work for that great advice makes a difference."
REB has recently reported on Mr Clarke's musing that the lead-up to 2019's federal election was "a blessing in disguise" for the real estate industry, calling it a "fantastic training ground for what we are going through right now" with respect to COVID-19.
ABOUT THE AUTHOR
---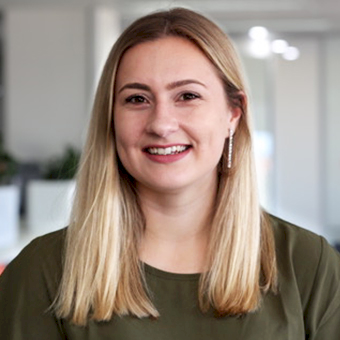 Grace is a journalist across Momentum property and investment brands. Grace joined Momentum Media in 2018, bringing with her a Bachelor of Laws and a Bachelor of Communication (Journalism) from the University of Newcastle. She's passionate about delivering easy to digest information and content relevant to her key audiences and stakeholders.