Coronis has appointed a passionate property professional to its Moreton Bay and Peninsula hub.
The team has welcomed Amy McCurley to the fold this week, describing her as a "rising star and talented agent".
Ms McCurley commenced her real estate career at the height of the COVID-19 pandemic in April. Since then, Coronis said she has hit the ground running, listing 13 properties and selling four in her first six months.
"I've always been passionate about the real estate industry. I just love property and everything to do with it," Ms McCurley said.
"I had worked in hotel and restaurant management for 20 years, but had always wanted to move to real estate, so I decided 2020 was the year and I just did it.
"When I became an agent, I started learning about the difference between real estate companies and what they offer to their agents, which is why I decided to join Coronis. I have some big goals that I would like to achieve and I felt like, in order to that, I needed an extra level of training, leadership support and tools which Coronis offered me."
In addition to the ongoing support, Ms McCurley said the area in which she is based is second to none.
"After relocating to Scarborough four years ago, which is the main area where I sell, I discovered it has such a special community, which is why I started a community Facebook page for the area which has really engaged the locals and everyone shares events and activities that we can all attend," she said.
"It is such a special suburb, and I can't wait to grow my skills and market share with Coronis and help even more people move into their dream home in Scarborough and Newport areas."
Commenting on the appointment of Ms McCurley, Coronis Hub director Chris Rhode said he was thrilled to welcome such a promising talent to the team.
"When I first met Amy, I could tell straight away that she had the skills and motivation to excel in real estate, and I really believe that with our training, leadership support, commission structure and flexibility that we offer, she will achieve her goals and ideal lifestyle in no time," Mr Rhode said.
"Amy has a natural ability to converse with sellers and buyers and make them both feel at ease and in control, which I think I a special talent in our industry,.
"To list 13 properties in what has been six of the toughest months in real estate is phenomenal, and I know that with a little guidance and support, she will shine bright and smash her goals.
"I'm excited to have Amy on board to help us grow our Redcliffe market share and team. She adds a lot of personality to the team and I'm really looking forward to working with her and supporting her as she makes a name for herself."
ABOUT THE AUTHOR
---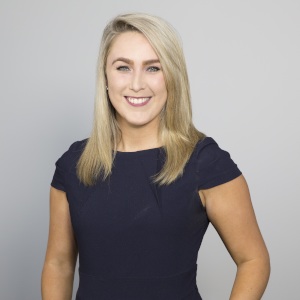 Emma Ryan is the deputy head of editorial at Momentum Media.

Emma has worked for Momentum Media since 2015, and has since been responsible for breaking some of the biggest stories in corporate Australia, including across the legal, mortgages, real estate and wealth industries. In addition, Emma has launched several additional sub-brands and events, driven by a passion to deliver quality and timely content to audiences through multiple platforms.
Email Emma on: [email protected]com.au