Investing in an individualised approach to professional development is vital to nurture an engaged team over the long term, as one real estate network has realised.
David Robinson first joined Laing+Simmons back in 2015 as the network's head of growth, but he also wanted to develop his own separate real estate coaching business at the same time.
Since then, Robinson Consulting Group, of which Mr Robinson is the director, has formed a non-exclusive relationship with Laing+Simmons, where no conflicts of interest exist.
According to the network, it's an example of Laing+Simmons' "unique" approach to professional development and the growth of its people.
"Once we established the coaching needs of the Laing+Simmons network, we agreed on a framework that would enable me to invest in myself as a coach and further develop my skill set through psychology and behavioural-based knowledge, that I knew would deliver broader benefits," Mr Robinson explained.
"In order to fulfil the business's future growth ambitions, non-exclusivity was important; however, we needed to agree on a structure that wouldn't compromise the work being done for Laing+Simmons." This structure was able to occur in a way that made his role with the network "more holistic".
Mr Robinson said he is now further involved in overall brand strategy, "given I have the objectives of Laing+Simmons as one of my main priorities".
For Laing+Simmons managing director Leanne Pilkington, valuing people means you need to work with them to ensure their career "always remains a fulfilling prospect".
"It's a person-centred approach that can be more time-intensive," she acknowledged, but said it recognises that everyone's needs and desires are unique.
"But to nurture an engaged team over the long term, an individual approach is necessary."
In Mr Robinson's case, the managing director said: "This meant understanding his desire to upskill as a business coach, investing in his professional development, accommodating his needs through the education process, and resourcing leftover tasks with talented new people."
From his perspective, having a business allowed him to invest in himself in a more efficient manner, while also enabling Laing+Simmons to benefit from these investments.
"The conversations were initially between Leanne and myself, and I was clear about my aspirations to run my own business, and to eventually serve other industries and leadership functions," he explained.
"I'm grateful we were able to come to a mutually beneficial arrangement, an outcome that would not have been possible without an open, collaborative and frank conversation."
While it seems like a lot, Ms Pilkington said "the pay-off is tangible".
"David remains a long-term valued and value-adding member of the corporate team and his unique expertise is something our entire network can tap into as a competitive advantage," she continued.
Mr Robinson agrees and has highlighted how much of his coaching business's growth from outside the network "has been in more regional markets, which in turn may lead to future opportunities for Laing+Simmons".
Mr Robinson's situation is not a unique one within the brand, with Ms Pilkington explaining that "one-on-one, our leadership approach at Laing+Simmons is about creating a cohesive environment in which every team member is engaged, challenged and rewarded by their role".
She said that whenever a team member makes a decision to move on from Laing+Simmons, not only is the vacant role reassessed, all other roles are, too: "We challenge our people to assess their own role and take on new challenges.
"We take the time to understand what else they feel they could succeed at, or improve on. We ask about the tasks that no longer excite them.
"In a sense, we work with our people to rewrite their position description together. It's about aligning people with roles that excite and engage them, which also creates a positive difference in the business."
According to Mr Robinson, it demonstrates that Laing+Simmons "sees the value in its people by viewing team members as assets, not numbers".
"It also shows that a collaboration can be effective and deliver the needs and wants of both business and employee, to allow for far longer tenure and productivity," he concluded.
ABOUT THE AUTHOR
---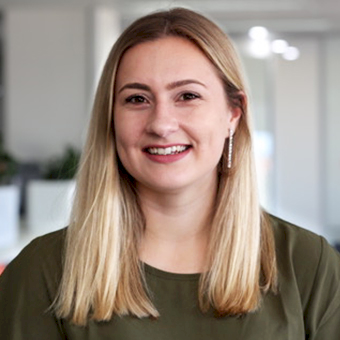 Grace is a journalist across Momentum property and investment brands. Grace joined Momentum Media in 2018, bringing with her a Bachelor of Laws and a Bachelor of Communication (Journalism) from the University of Newcastle. She's passionate about delivering easy to digest information and content relevant to her key audiences and stakeholders.