Promoted by Palace
The innovative digital solution that connects the entire tenancy lifecycle - automating tasks to save property managers time and headaches.
At its heart, property management is about people, not spreadsheets. Yet every week, time-strapped property managers sink hours into repetitive manual tasks like handling paperwork, transferring data from one system to another, and updating stakeholders throughout the tenancy lifecycle, to name a few.
But what if every hour of admin could be poured into the activities that truly matter - like building new relationships, nurturing existing ones and finding the best tenants for every property? 
Finally, there's an innovative digital solution that connects the entire tenancy lifecycle - automating tasks to save property managers time and headaches, integrating with core systems to streamline processes, and providing a seamless experience for tenants and landlords.
What is Sorted?
Sorted is a customer experience platform that connects the entire tenancy lifecycle - automating repetitive tasks, digitising processes and providing a superior experience for tenants and landlords.
Sorted consolidates all the key stages of the tenancy lifecycle into a simple and streamlined platform for property managers, tenants and landlords. The platform then seamlessly integrates with your core property management systems like Palace, eliminating the headache of manual data entry across multiple platforms.
How Sorted connects the tenancy lifecycle and integrates with core systems like Palace
Tenants apply for properties through Sorted's free mobile-first Applications platform

You review applicants in Sorted's agency platform

Automated reference checks and integrated ID verification help find the best tenants faster

Immediately upon approving a tenant, the tenancy agreement is auto-populated and sent to both the landlord and tenant to be signed digitally

Once a tenancy is signed, you are notified and all information is auto-populated in Palace

Tenants are invited to set up their home using the Sorted mobile app - from viewing tenancy documents, to setting up rental payments and connecting services

You, your tenants and suppliers can use Sorted's to manage ongoing maintenance requests
How Independent uses Sorted + Palace to save hours every week
Since using Sorted and Palace together, Grace Hooper, General Manager of Independent Property Group, and her team have boosted efficiency, winning back precious time to focus on what matters.
"Sorted works seamlessly with Palace to help us make property management simpler. We simply switched on and Sorted had us saving time on everything from remote applications, automated reference checks, digital signing and renewals. With both systems constantly in sync, we do less time-wasting double data entry, which means more valuable time with our clients" - Grace Hooper, General Manager, Independent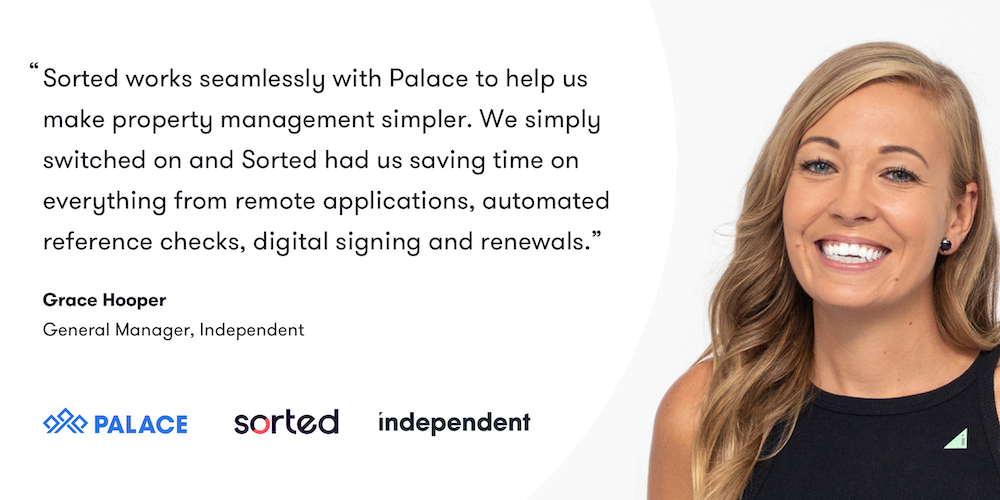 Getting started is simple
To start saving time with Palace and Sorted is simple. There's no added data entry. No headaches - just a single click and all property and user data is automatically in sync so you can start transforming your agency today.
Learn how Grace and her team of property managers at Independent are using Palace and Sorted hand-in-hand: here
Palace - Property Management Software
This information was brought to you by Palace. Palace brings you web-based property management software that helps you to work smarter, not harder. Gather an up-to-date analysis with KPI reports, graphs and comparisons, so that you can focus on growing your rent roll.
Trust Accounting, Key Management, Online Document Storage, Invoice Barcode Scanning and our intuitive Inspection App help you to make the most of your day, whilst our seamless mail-merge functionality saves you time on communication.
Keep your skills up to date with regular training and weekly webinars. Discover the property management software that skyrockets efficiency, eliminates admin headaches and comes with world-class support. 
Find out for yourself how Palace can help you grow your property management business. Request your free demo now.