How do you drive high performance without added pressure? For this property management team, a lot of it comes down to servant leadership. Here's how this director instills it in practice.
In a recent episode of REB's Secrets of the Top 100 Agents, Jodi Ford sat down with host Grace Ormsby and shared how the property management team managed to grow to more than 8,000 properties under management.
The Industry Thought Leader of the Year at the REB Awards 2021, Ms Ford explained that a lot of the team's growth — and high performance — has to do with cultural perspective.
"For me, it's around driving high performance and rewarding high performance without creating the pressures and stress that comes along with that," she said.
Considering it as "a really tricky balance", she argued the only way to navigate such a task is "to talk to your team and to know what they want and what they require of us".
"We are very much around servant leadership," she said.
"We understand, as leaders, it's our role to serve our team and to do whatever they need for us to do, basically, for them do be able to perform at their best."
Ms Ford added that at Coronis, this concept is put in place at an individual level.
"What we need is to have leaders within our business — and people like myself — who are just there all the time to listen to what our team want and then individually find ways to give them what they need."
Responding to a question about whether stress removal strategies helps people work better, Ms Ford said "they absolutely do".
She emphasised that pressure and stress can come from the smallest things, and that "sometimes relieving that pressure is just as simple as changing their hours of work".
Providing an example, Ms Ford said: "It might be that they live somewhere that their whole travel is on the freeway, and it's a nightmare from eight o'clock until nine o'clock. So, why would you put them through that when they're going to be stressed before they even get there?
"It might be that you just shuffle their day an hour earlier, or an hour later."
She noted that the removal of a stressor or pressure point doesn't necessarily have to be a big life-changing thing.
"It's just what suits that person and fits into their life."
Working through servant leadership principles is especially important in the area of property management, according to Ms Ford, when property managers are sometimes expected — or think they are expected — to be on call at all hours of the day or night.
The industry thought leader said that, sometimes, the managers of property managers are "not effective in the way that we lead them".
Conceding that this is a problem she has faced herself, Ms Ford said because it suits her, and because she finds it easy to, she'll "start shooting off emails at 5 o'clock in the morning".
She didn't realise the amount of pressure that that was putting on her own team.
"I was thinking, I'll shoot this email off and they'll get back to me when they start work, not realising that their respect for me as their leader meant that they wanted to get back to me straight away and they didn't want to let me down," she said.
"So, here they are at 5 o'clock in the morning, getting back to me.
"I was the one that had to go, 'No, I'm sending the emails at that time because it suits my time schedule, but I don't want you to get back to me. Don't answer my emails at 5 o'clock in the morning. Answer them when you get into work.'"
But she acknowledges that if she hadn't expressed that, they would have continued to answer her emails at all hours.
"Inevitably, I was putting pressure on them without actually realising I was doing that," she continued.
This experience led Ms Ford to muse on the importance of self-reflection as a leader — a quality she said was instilled in her by Coronis' managing director, Andrew Coronis.
She reflected on his purchase of compact mirrors for the entire team 20 years ago, and said: "If things are going right, and if things are going wrong, look in the mirror.
"It's just so right.
"If you're not constantly looking at what you're doing and what impact that can have on the team, then I don't think you are a great leader."
Ms Ford's Secrets of the Top 100 Agents episode can be found here.
ABOUT THE AUTHOR
---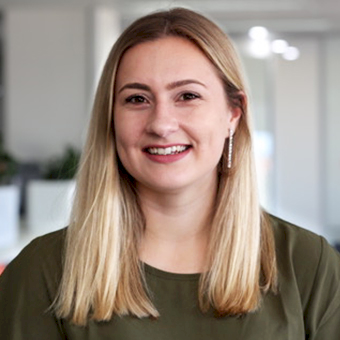 Grace is a journalist across Momentum property and investment brands. Grace joined Momentum Media in 2018, bringing with her a Bachelor of Laws and a Bachelor of Communication (Journalism) from the University of Newcastle. She's passionate about delivering easy to digest information and content relevant to her key audiences and stakeholders.