For more than a decade, this real estate agent hasn't had a shopfront, citing its "irrelevance" to her own personal brand of real estate.
Real estate agent and principal of a self-titled real estate agency, Lynda White, believes she was ahead of her time when she "moved in an entirely different direction over 10 years ago".
"I always have gone to the client/customer, or met at a café," she said.
"I've done more deals over eggs Benedict than over an office desk!"
From the Victorian agent's perspective, shopfronts do not represent good marketing value and are expensive, considering they provide "a very small return".
She also doesn't see the value in paying for leads, outlining that "they very rarely pan out and there is no trust/like relationship happening with prospects".
Ms White instead focuses her energies in other ways. She has a branded car, and ensures she has brand consistency with her dress style that incorporates pink suits and pink jackets.
She also sees referrals as king — emphasising networking, door knocking and introductions, and with the backing of an effective website and digital business card.
Having previously worked within a franchise model, Ms White acknowledges that her move to a bespoke and boutique independent agency has changed her marketing strategy.
With the benefit of hindsight, she believes that if she were starting all over again as a young business woman in real estate, she would have been her "loud and out-there self, straight up".
Reflecting that she would have taken the leap into a boutique brand much earlier than she did, Ms White continued: "I would have invested earlier in brand development rather than waste time, effort and money developing someone else's brand."
She explained to REB that her branding has evolved over time as funds became available, with her current look becoming "a direct reflection" of her personality.   
"I have found over time that consumers are fed up with the 'stuffy shirt' approach; they appreciate a person who is transparent and fun," Ms White said.
She believes trying to look "professional" is a pitfall too many agents and agencies fall into when they go about marketing their business.
"You can wear a pink jacket, [and] be a real person while remaining totally professional," the business owner said.
"People love it!"
While real estate trends have changed, Ms White said consumer behaviour is still much the same.
She said: "They want to buy or sell, lease or have their investment managed, and I want to be part of that… So, my strategy has always been service, service, service! With a big smile, of course."
ABOUT THE AUTHOR
---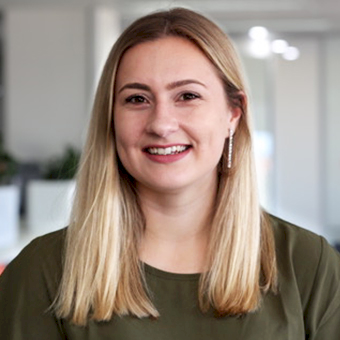 Grace is a journalist across Momentum property and investment brands. Grace joined Momentum Media in 2018, bringing with her a Bachelor of Laws and a Bachelor of Communication (Journalism) from the University of Newcastle. She's passionate about delivering easy to digest information and content relevant to her key audiences and stakeholders.