Nothing replaces the information sharing that happens in an office space, according to a Mount Gambier agency that's just finalised a mammoth 12-month office renovation project.
Key 2 Sale has considered its new office space a "commitment to investing in the community", as well as a way to express its confidence in the future of the Limestone Coast real estate industry.
Helmed by directors Gail Richards and Al Lamond, the South Australian agency has just moved into its brand-new Sturt Street headquarters after spending 12 months renovating a "tired" office block in one of Mount Gambier's busiest precincts.
The new headquarters boast offices, meeting rooms and a kitchen — as well as a wellbeing room for employees.
"The Key 2 Sale team works incredibly hard and spends a lot of time at the office, so we thought it was important to have a place where we can switch off for a while, in addition to providing pleasant, collaborative workspaces," Ms Richards said.
Employees aren't the only ones whose needs have been considered in the extensive renovation project, with the director also highlighting the office's "homely, welcoming feel" for clients.
"We really want clients to feel like they are coming into our home as opposed to a corporate office environment, yet there are still those confidential spaces allowing them to discuss their real estate requirements with confidence."
The new-look space has also benefited from the addition of a façade that complements historical and character buildings in the local area.
Ms Richards explained that while the agency was looking to buy an old building, "the right property never really presented itself".
"In the end, we practised what we preach as real estate agents and went for location," she said.
Overall, the building and office design has been designed "to deliver maximum efficiency" for the business as it continues its growth trajectory.
Acknowledging a recent move to remote working as a result of COVID-19, Ms Richards said that while the tech environment is critical for real estate sales, "nothing replaces the information sharing that happens in an office space, where we can work as a team bouncing ideas off one another".
The director notes the Key 2 Sale team as having come a long way from the agency's humble beginnings in 2016; Ms Richards was working from a desk in her laundry — and had set herself a target of selling two houses a month.
Now, the business boasts nine staff members, and reports the largest market share of property sales for Mount Gambier and the surrounding areas.
"We are incredibly proud of our growth," Ms Richards has reflected, but is quick to note it's not about the numbers.
"It's about the people.
"We love assisting our clients over the real estate journey."
ABOUT THE AUTHOR
---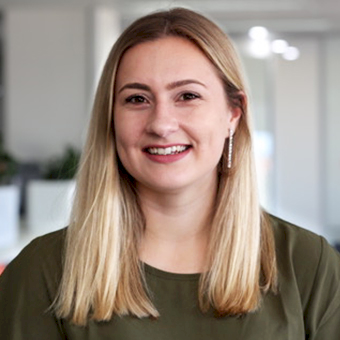 Grace is a journalist across Momentum property and investment brands. Grace joined Momentum Media in 2018, bringing with her a Bachelor of Laws and a Bachelor of Communication (Journalism) from the University of Newcastle. She's passionate about delivering easy to digest information and content relevant to her key audiences and stakeholders.