Environmentally friendly businesses are the future — and real estate is no exception, according to a Queensland network's COO.
Coronis Group has revealed it is undertaking a three-phase "Go Green" initiative in a bid to improve its sustainability
"I believe that the next generation that is entering the workforce now not only expects businesses to have an environmental policy and practices in place, but they are demanding it from their employers," expressed Coronis' chief operating officer, Karuna Dimelow.
That thought process has led her to offer the sentiment: "Green businesses are the way of the future."
For Coronis, sustainability already sits as a core value for the group, which is why Ms Dimelow said they have been focusing their energy on the ways they could operate in a more environmentally friendly manner as well as "increase their acts of green".
"We want to be part of the change and do our part as responsible corporate citizens to protect the planet and make it a sustainable environment for the future generations," she said.
"From analysing our business practices, we identified 12 immediate changes we could make across the business to improve our environmental performance."
Some of those changes have included:
Overhauling wastage operations by incorporating soft plastics, paper and rubbish bins across all hubs
Creating can and bottle collection points for team members participating in the Containers for Change program
Incorporating recycling bins into kitchens for used Nespresso pods
Eradication of single-use water bottles
Reducing water wastage by installing aerators into taps as well as slow-running toilets
An overhaul of the procurement policy to only purchase environmentally friendly stationary, paper and cleaning products
Recycling all broken electronics
Turning off all lights and electronics each night
According to Coronis, phase one of "Go Green" is already complete.
Phase two is focused on reducing the group's paper usage and overhauling the network's printed marketing suite.
Phase three will be "more long term", according to Ms Dimelow, "with the goal of installing solar panels, car charging stations and water tanks at our hub buildings".
The COO is encouraging of other businesses looking towards a more sustainable future.
"I think if everyone looks at their business practices with a green-tinged microscope, that they might be surprised at what they find and what they can change," she said.
The Coronis initiative, which has reportedly been "in the works for some time", was revealed to the public on 22 April 2021 to coincide with Earth Day.
The COO said "Earth Day is a momentous day every year, with major environmental events taking place all over the world".
Citing the spotlight it has placed on climate change and a broader movement to protect the planet, Ms Dimelow commented: "I personally think that it's been the catalyst for some really cool initiatives such as the launch of 'A Billion Acts of Green' in 2012, which highlights the many ways individuals can make a difference and, to date, it's inspired more than 3 billion acts of green."
ABOUT THE AUTHOR
---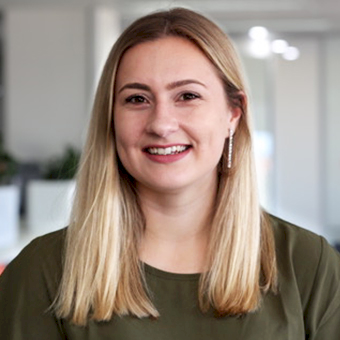 Grace is a journalist across Momentum property and investment brands. Grace joined Momentum Media in 2018, bringing with her a Bachelor of Laws and a Bachelor of Communication (Journalism) from the University of Newcastle. She's passionate about delivering easy to digest information and content relevant to her key audiences and stakeholders.