Stilettos in business
Blogger: Sadhana Smiles, CEO, Harcourts Victoria 
I am often asked to comment on the topic of women in business working in a male dominated industry. The irony is that I have never had an issue getting a job or a promotion because I am a woman. However, I have experienced situations where I have been treated differently because of my gender.
When I am asked to comment on this issue, please understand that I don't make commentary from an industry perspective. I speak as a woman in business that has had a successful career in my chosen field.
The issue of women at senior management and leadership level is one that is debated worldwide. There is no doubt that there is inequality at a boardroom level in corporate Australia. However, more and more women are taking over the reins in companies worldwide and having equal gender at the top level does impact positively on a business's performance.
Some stats to consider on this topic are: 60% of graduates are women; we make up 51% of the population and 46% of the labour force. In Australia the number of women in management roles in business sits at about 16%. Given these stats the topic or debate on women in leadership, management and board positions is a relevant one.
Woman often build their own glass ceilings to add to the ones that already exist. So conversations such as "working in a male dominated industry" can in some instances add to our ceilings.
We often say that real estate is male dominated. At senior management level this is true. However there are a number of very successful women who work in real estate as agents, property managers and business owners.
Business is changing especially in real estate and we need to move from being transactional to relationship focused. Women tend to do this better than men. There are number of networking groups in Melbourne that women now belong to that provides them with support, mentoring, coaching and business growth. A number of large businesses have a focus on developing female talent within their organisations and I believe that we need to take on these wonderful opportunities and use them to our advantage.
I am a firm believer that women can have it all- many do- but perhaps not all at the same time. Women must juggle their careers, family and time for themselves and none of this is really straightforward. There is a time to be a woman, a wife, a mother, a daughter, a professional in your chosen career and we need to be able to do all of this without guilt on the choices we make at any one time.
I have never felt guilty for any of the decisions I have taken. Putting kids in childcare at 6 months, getting a nanny, having a job that involved significant travel and time away from the kids, forgetting to pack the lunch or on the odd occasion picking my son up from school, getting divorced and being a single mum with a career.
There are always times when I believe I could have done things better but doing what I do makes me happy and makes me a better mother, partner, daughter, friend which I believe is more important. It also makes it easier to get through those days that are complete disasters and everything goes wrong.
Whether you are male or female the question is how driven are you to obtain the success you want? As Stephen Covey wrote, start with the end in mind and plan how to get there. Know what the milestones are that you need to achieve and ask for the roles that you want.
Read Part 1, Part 2 and Part 3 and Part 4. 
ABOUT THE AUTHOR
---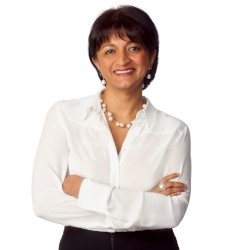 Sadhana Smiles is chief executive officer of Harcourts Victoria, the state division of one of Australia's leading and well respected real estate brands.
She is also a popular speaker and presenter, and is regularly asked to speak at some of the industry's most prestigious events, including ARPM, AREC, AREL, RELC, the REINSW Women's Conference and the Harcourts Conference.
Sadhana is also a regular contributor to a number of national real estate journals and publications.