I would hazard a guess that you too have made New Year's resolutions for 2014? It's interesting to note that almost 80 per cent of people who make resolutions have actaully abandoned them by mid-February.
Like me, many of you will be reflecting on the year you have had and what you want to achieve this year. One of the things I have learnt is to stick to your resolutions you must ensure that you write them down and put a plan in place to achieve them. Planning is important as it gives you a road map, targets, keeps you focused and accountable.
So where or how do you start? To quote Stephen Covey – start with the end in mind. For some of us that could be what we want to achieve in the next 12 months, two years or more. Whatever the time frame, once you know what your key goals are you can then work back from there.
Keep in mind the following:
What are the things you need to put in place now or change to achieve one or many of your key goals?
How are you going to keep focused and disciplined?
Who is going to hold you accountable and help you review your goals?
It's important that you review the past year you have had and take lessons from it. What did you do well, what do you need to improve on, and what do you need to stop doing?
Ensure that the goals you set are specific and measurable rather than abstract. As an example, 'make 10 calls before 10am every morning' is a specific measureable goal rather than 'I will prospect more'.
Write them down and ensure that you have in place a simple one page business plan that takes into account your business and personal goals.
Focusing on just your business goals and to help with your planning take into account the following:
What has occurred in your market place in the last 12 months? We know the market has improved, however you need to understand the exact impact of this
Review your market share compared to other agents in your office and your competition. What level of market share do you need to ensure that you earn the dollars you want to earn in 2014?
What is the dollar amount you wish to earn this year, add to this any additional costs such as marketing, training PA etc which will give you a gross amount?
What is the average commission you make per property sold?
What is your average commission split per property listed and sold?
Once you have these numbers simply divide your gross earning by the commission per property and this will provide you with the number of sales you need to make. 
Depending on your clearance ratio you will then be able to work out how many listings you need to carry to achieve the number of sales you need to make.
There are many other elements to take into consideration as key focus areas, such as prospecting, marketing and training all of which will help you achieve your goals if you are consistent.
Ensure that you hold yourself accountable - we all start with the best of intentions, however very few of us like to be held accountable especially when we are not achieving our goals and so once we are off track we tend to remain off track for a significant period of time. Find someone who will help you keep you on track and accountable - a coach or a mentor who understands how you work and what you want to achieve.
The greatest advantage you have as an agent is that you are ultimately in charge of how much you earn. Find someone who will help you keep on track, someone who you can go to monthly and review what you need to do next month.
There needs to be an element of reflection on what you have achieved so far, however one of biggest mistakes we make is that we place too much focus on the past, we cannot change it however we are aware when we start to go off track, as soon as that occurs, stop, review and make necessary changes.
Never get comfortable with your performance, there is always room to be or do better. If top athletes were satisfied with their last performance then personal bests would never be broken.
By all accounts 2014 is going to be a great year for real estate, make sure that you are ready to make this your best year yet.
ABOUT THE AUTHOR
---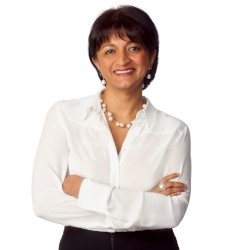 Sadhana Smiles is chief executive officer of Harcourts Victoria, the state division of one of Australia's leading and well respected real estate brands.
She is also a popular speaker and presenter, and is regularly asked to speak at some of the industry's most prestigious events, including ARPM, AREC, AREL, RELC, the REINSW Women's Conference and the Harcourts Conference.
Sadhana is also a regular contributor to a number of national real estate journals and publications.