A new dawn of digital disruption is nigh. Dubbed the 'Internet of Everything', the next era of the internet will offer incredible new opportunities and is set to eclipse the last 20 years of change in just a matter of months.
But what impact will this new digital era have on our industry?
The rapid evolution and widespread adoption of new digital platforms has already started to change the way in which property is marketed. The prevalence of smartphones and tablets has necessitated the need for a more holistic approach to marketing property, with a heightened emphasis on engaging with your audience on the right channel at the right time. We now have to seriously consider integrating cross-channel promotion into the marketing mix, and this inevitably involves more digital engagement.
Consumers no longer simply have offline or online needs. They are now looking for integrated brand experiences. We need to focus on creating a marketing mix combining different 'channels', with each new touchpoint generating new customer experiences and deeper levels of engagement. If we think that some customers' expectations are high now, just wait until we are in the midst of the impending 'Internet of Everything' age.
At the forefront of the new digital landscape will be the use of augmented reality (AR). It may seem like a futuristic concept, but the reality is that we are already living tomorrow's world today. AR is a digital layer over the real world that you can't see with the naked eye, but you can see through the viewfinder of your smartphone or tablet. Starr Partners have been at the leading edge of this technology, having recently launched the industry's first AR platform. Although still in its nascent, early customer engagement metrics point to a very bright future.
The growing dependency on technology calls for bigger, better, faster, more efficient and visually exciting ways for consumers to access information about a property. How you adapt to these new digital demands will partly determine your success. Rather than being intimidated by digital disruption we should embrace it and welcome it with open arms.
Change is inevitable, progress is optional.
Douglas Driscoll is CEO of Starr Partners and is a finalist in the Industry Thought Leader category at this year's REB Awards. Originally from the UK, Douglas is often lauded for his dynamic and pioneering approach.
ABOUT THE AUTHOR
---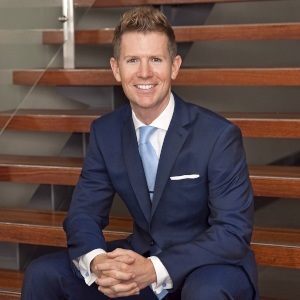 Douglas Driscoll is CEO of Starr Partners, and was named Industry Thought Leader of the Year at the Real Estate Business Awards 2016. Originally from the UK, Douglas is widely regarded as one of the industry's preeminent thought leaders, and is lauded for his dynamic and pioneering approach.