When you read this as an agent you will already have a network. It might be big, it might be small. A lot of it will depend on how long you have been in the industry, and also how hard you work in building your agent profile.
With that said, there are a few avenues you can approach to increase your network exposure without having to do the hard cold-selling that many agents do.
If you're a developing agent, ask yourself if you are exploring every one of these avenues to grow your network, and if not, get started!
1. Connect with your local suppliers:
Before you start hunting down leads here, there and everywhere, why not go to the people that live in your network. When you leave your home and go to the milk bar, dry cleaner, post office etc. you can forget that these people are in your network. Chances are they also know people in the area you work. Connect with them, personalise your experiences with them and stand out from being another customer.
2. Connect with your kids' network: 
If you spend time taking your children to social arrangements, chances are that the parents of the other kids live in the same area. Use that as a platform to build your relationship with them. Find out about their homes, take interest in where they live and tell them you'd love to give it a free look over. Explain that you are focused on the area they live and if they have any property questions at all you can help.
3. Use past connections for new ones: 
A standard sales teacher will tell you about follow up. You need to engage with prospects regularly, not only because they may be ready to move again, but because they will know people who are wanting to move as well. A call to update vendors on the market, check in on their new home, and ask if they have friends in the market are all great ways to provide information and also build referrals.
4. Become a community supporter and be public about it: 
There will be a bunch of agents competing for prominence in your area. One of the best ways to become the sought-after agent in your area is to sponsor local events and to be proud about it. Sponsoring a local football team shows you care about local businesses and people. Also work on building rapport with the local providers, give positive feedback to services you enjoy in your area, and personalise it as much as possible.
5. Look at every opportunity to increase your network: 
Every time you engage with locals, show sincere interest, but also leave them with a reminder of you. You can get 500 business cards for less than $100 but the power is far reaching. If every person you meet is receiving a business card, it will ensure you are kept front of mind by them when they are searching for an agent, and will increase your exposure. Ensure you clearly state on your card how you can help. Something such as "The Local Expert in (suburb)" is a great way to have them think of you when it comes to property.
ABOUT THE AUTHOR
---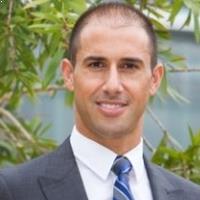 Rocky Bartolotto is the national sales director for homely.com.au. Rocky's extensive experience in introducing new product offerings to the market and client management abilities makes him one of the most knowledgeable property specialists in the country. In addition to his time working in the online space, Rocky is also one of Sydney's top auctioneers, with over 4,000 auctions performed through his business. He is the director and chief auctioneer at Property Auction Services.