With three months until the year end, now is the time for real estate agents to run an annual health check on their business and determine whether it is on course to achieve year-on-year growth.
Assessing whether your business is hitting established KPIs is essential in generating annualised growth and if you're not doing this, you run the risk of having a false sense of security about your business performance.
While profits are a genuine measure of success, high margins don't necessarily equal a healthy business. One of the biggest oversights among agency owners is to be either too complacent about results or preoccupied with outputs. Sometimes, it's how you make your profits that counts; the most important being how well you service your customers.

To achieve year-on-year success, here's a guide for real estate principals and franchise owners to use while assessing the health of their business:

1. Do you have you an established identity? Your identity is your brand asset. Any business without a clear vision, offering and service promise is doomed to lose its way.
Your foundation is your core and should be established at the outset; without this, how do you expect to build a positive perception among customers? Business owners need to research their local market, define their market segment and then build their operations around market needs. Defining your service pledge will also help you monitor consistency in business inputs and will assist you in setting, not following, best practice principles.

2. Are you adaptable to change? The ability to adapt to changes in market conditions and customer needs is a fundamental challenge but imperative for business survival. Change is inevitable, progress is optional. Real estate listings over the last five years have been down and business owners need a proactive not reactive approach to customer service.
Whether it's making more calls, utilising technology to enhance your offering, or seeking feedback from buyers and sellers who have engaged the local competition; it's important your business is flexible and responsive to customer needs. I would also caution business owners not to rely too heavily on seasonal booms and understand that growth can take place at any time.

3. Is your business relevant? Do customers identify with your brand? If not, why not?
A common error I see all too often is agents paying too much attention on what competitors are doing. While it's important you understand the competition, trying to reinvent the wheel or mimic the agency down the road can veer you off track and not lead to sales. Public opinion is your most important ally. Do your due diligence. Survey your local market, find out how customers perceive you and identify their needs. This will help you refine your approach to sales and customer service.

4. Are you embracing technology? The real estate industry is evolving. Advances in technology, including online capabilities, mobile optimised content and content apps, are changing the way we do business. These tools are not gimmicks, says Doug, but instead enable us to improve our services, efficiencies and streamline processes. Adapt or die. A majority of your customers are now on mobile and are no longer searching for properties the way they did a decade ago. Investing in your online presence and mobile capabilities to reach and engage customers is critical and should complement your on-the-ground activities.

5. Are you market driven or marketing driven? Success is dependent on your efforts. While you may have made strong annual sales, if market conditions are favourable, your competitors will likely be in a similar position to you and the status quo will remain the same. Don't take positive conditions for granted.
If the current buoyant market takes a turn, your business could be vulnerable. To increase your slice of the pie, agents should benchmark their performance on market share. Agents must also consider the amount they reinvest in advertising. As a rule, businesses should reinvest 10-15 per cent of earnings into marketing – with a focus showcasing business wins and customer service.

6. Do you measure staff accountability? Whether it's the number of calls made, securing leads and sales, or your customer service ethic; KPIs for all team members need to be set, monitored and benchmarked.
A structured approach to performance and career development is essential to assist employees in taking ownership of their role. Business owner's also need to include themselves in performance KPIs to ensure the office culture is equitable. Agency owners should consider seeking guidance from an external mentor, not only for professional counsel but to assist them in being a role model and team leader.

7.Do you have a healthy business culture? Cultivating a positive agency culture not only sets the day-to-day tone of the office, but fosters staff and workplace well-being. A positive workplace is a productive workplace. Workplace rewards and incentives are a great way to recognise staff achievements and keep the team motivated. I would also encourage agency owners to attend group training days with their staff, host team social events, and always have an open door policy.

It's never too late to review the health of your business and make adjustments. I encourage all business owners to run a health check annually and benchmark results. It could be the difference between success and failure.
ABOUT THE AUTHOR
---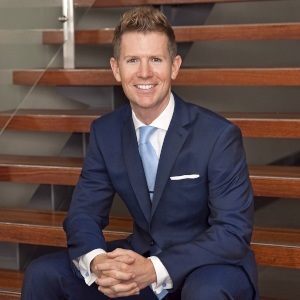 Douglas Driscoll is CEO of Starr Partners, and was named Industry Thought Leader of the Year at the Real Estate Business Awards 2016. Originally from the UK, Douglas is widely regarded as one of the industry's preeminent thought leaders, and is lauded for his dynamic and pioneering approach.