As we head into a new year it's typical for a lot of us to stop and think about where we want to be by the end of 2015. What are your goals? What career resolutions will you make? If you've had success in 2014 but are ready to see that success continue to grow, it makes sense to put your goals down on paper and take steps towards them to ensure your success in 2015.
If your major goal of 2015 is to take full ownership of your office then take a look at some of the considerations below before taking the leap.
Are you looking to grow your team under your existing brand?
If you've achieved your sales goals in 2014 then congratulations! It's now time to get to the next level. So, what does that look like? Look at your alternatives: Does your current employer support your growth? If so, build a team and hire for your weaknesses not your strengths.
Think about the hires that will free you up and make you more effective. That could mean hiring someone for administration. If you do decide to hire an administration person, make sure you delegate those responsibilities to them, so you can concentrate on listing and selling.
If you already have the right team and are looking to build an asset, it might be time to go out on your own.
Are you considering starting your own independent office but are worried about the costs?
Going alone can be costly, so make sure you know all of the costs involved beforehand. Things like:
• Rent
• Staff
• Equipment
• Signage/marketing
• Website development costs
• Systems and staff training
It's crucial to have a good business plan and the cash flow to support the start-up.
Is it better under a franchise or boutique?
It can be very lonely as a boutique operator, particularly as a start-up, and the costs can be very prohibitive. Think about the end game if you do go boutique: it will be very hard to sell a personal name brand in seven to 10 years.
One benefit of being part of a larger brand is the existing brand awareness and recognition, something that's very important within the first 12 months. With the right brand, you also have the benefit of that brand's (hopefully) positive reputation.
That's why it's so crucial you align yourself to a brand that meets your standards and shares your values. A brand should put the client at the heart of what they do, and offer you their full support in everything that you do. Only then will see you the true benefits of operating under a franchise.
What are the main benefits to aligning my business to a brand?
Other than the points touched on above, going with a known franchise is helpful for support, with a large company behind you that can support you with the latest in technology, marketing and branding, professional websites and robust business planning.
It's also important that the brand is able to support you with the proper systems and training – something that's much harder to achieve on a smaller scale.
What are systems and training worth?
Good, up-to-date and modern systems aren't just nice-to-haves but critical in today's real estate market. More importantly, you need to know not only how to use them, but how to get the most from them.
When considering a franchise, look at their systems and apps and then have a look at their training calendar. Every franchise has an offering so look at what best suits your needs.
Take your time
The decision to go it alone or partner with a larger brand is a big one. It takes time and careful planning. The best advice is not to rush the process and to weigh up the pros and cons.
If you do decide to go down the franchise route, start by looking for a brand that closely aligns with your values, work ethic and customer service philosophy, a brand that will support you and your needs, and is genuinely interested in your success, not just the bottom line.
ABOUT THE AUTHOR
---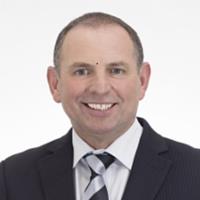 Mark Morrison is the NSW chief executive of Harcourts. He is a corporate sales and operations leader with a talent and passion for growing sales-focused organisations. He helps sales managers grow their business through recruitment and business planning, and provides systems for one-on-one coaching for sales teams.