Real estate agents were recently ranked the third least trusted industry professionals in Australia — and it's having a heavy impact on our success. But what can we do to build rapport with our clients and start reaping the rewards?
Above all else, we need to show our clients that we are someone they can trust. But how? I believe there are three key factors to building a relationship between an agent and our client.
1. Act with integrity
Integrity, authenticity and honesty are all crucial components required in building strong working relationship and overcoming those outdated stereotypes. Show your clients that you are on their team by making use of your industry expertise and local area knowledge, and offer guidance and advice that you believe may benefit them personally, rather than simply securing their business.
Furthermore, it's essential that you be honest and direct in all of your dealings. While it may sound simple, it's far from uncommon for ambitious young agents to succumb to overselling their services in order to secure business, but be warned, something as simple as an accidental overexaggeration can leave the client feeling as though you are attempting to dupe or deceive them.
2. Deliver on expectations
There is nothing more damaging to an agent-client relationship than failing to deliver on promises. I frequently meet new clients who have had negative experiences in the past, and their trust has been damaged by agents overselling on what they can actually deliver.
One of the most common complaints I hear is how the previous agent has promised them an inflated weekly rental price – when they themselves had doubted whether their property could bring in that much.
Unmet expectations and unfulfilled promises leave a bad taste in the client's mouth, and ultimately means they're less likely to continue to work with the agent or recommend them to others. The most simple way to avoid this? Don't make promises you can't keep.
3. Continuous communication
Clear lines of communication between agent and client lay the foundations for a great working relationship, and while this doesn't mean you have to be on call, keeping your clients up to date will give them great peace of mind.
When I go into each new client meeting, I make a point to discuss with them my preferred plan of action. For example, in some instances I might advise we initially list their property at a higher price to start with depending on the market. However, I steer clear of making any grand promises, or falsely raising their expectations.
Clients will always prefer this approach, and more often than not, they appreciate being included in the process.
My team and I also have a same day communication policy which means that if a landlord or tenant has contacted us, we reply on the same day. This has alleviated many frustrations on both sides and ensured that the client understands how much we value their patronage.
Being direct, honest and dependable is key ingredients to building trust, and these are the things that are going to keep your clients coming back time and time again. At the end of the day, clients will always return to an agent who held their trust, and when you are able to break away from negative expectations that plague the industry, you open yourself up to unlimited success.
Evidence
In a recent study conducted by Australia's leading market research company Roy Morgan Research, evidence was collected to determine the most and least trusted professionals in Australia. For real estate agents, the results did not fare well.
The Image of Professionals 2017 Survey highlighted that while health professionals such as nurses, doctors and pharmacists topped the list, real estate agents placed third from the bottom, alongside the likes of car salespeople and advertising professionals.
Real estate professionals nationwide report that client confidence can either make or break their careers. Working within an industry that relies heavily on referrals and word-of-mouth, having a strong reputation for being trustworthy and transparent is vital to achieving success and advancing in our careers.
Unfortunately, many agents and property manager's encounter these negative expectations through no fault of their own. Often it's clients' own preconceived notions and prior experience that leads them to mistrust the agent from the initial outset.
While there are a variety of reasons as to why a client may not hold trust in their agent, there are several things that property professionals can do to ensure a positive outcome and work towards building strong and successful relationships.
From my own personal success working within the real estate industry, specifically within the property management field, I truly believe the secret to success is simple. We as real estate professionals need to be genuine, and we need to be honest.
ABOUT THE AUTHOR
---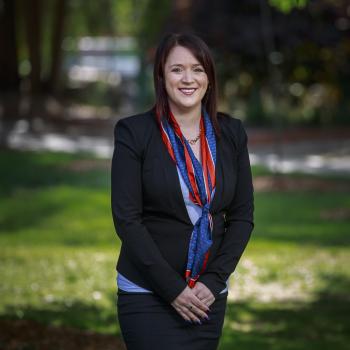 Danelle Hunter is the managing director of Biggin & Scott - Knox. She is a licensed estate agent and an award winning property manager.