Travel is a common part of doing business for many operators. Yet managed poorly, business travel can be a significant strain on a business, its staff and its leaders.
For the more than two million small businesses that call Australia home, those strains could be a thing of the past thanks to Qantas Business Rewards. We find out from some current members how being a Qantas Business Rewards member can deliver your business and your team a fast, flexible and cost-effective approach to all of your future business travel.
Simple, flexible booking process
Running a business isn't just hard, it's also expensive and time-consuming, with around one-quarter of business owners working over 50 hours each week — meaning that saving time and money wherever possible is a crucial element of every service used by business leaders and their employees.
With a simple, easy-to-use flight booking tool, Qantas Business Rewards affords their members more time to spend on their business, rather than on booking their travel needs.
Members can choose how they want to book — whether directly online or with the help of their preferred travel agent — while still accessing all the member benefits. The booking tool securely stores all relevant information — including employee names, business ABN and payment details — so that future bookings can be made quickly and easily while on the go.
"We are creative in our nature, so running an actual business is really challenging," admits Cushla McFadden and Jade Nottage of interior design studio TomMarkHenry.
"[With Qantas Business Rewards], we're able to go into the system and all of our details are there. It makes booking really fast, it's flexible and we've got all of our staff's details stored."
Earn twice on flights
With Qantas Business Rewards, it isn't just the traveller who earns Qantas Points — both the traveller and the business earn points and Status Credits on every flight.
"We do travel a lot to each of the stores at least twice a year, and each member of the management team would visit our stores interstate at least two to three times a year," says Peter King of dusk Australasia.
"And our retail team, state managers and area managers, they fly to our customer support office three times a year.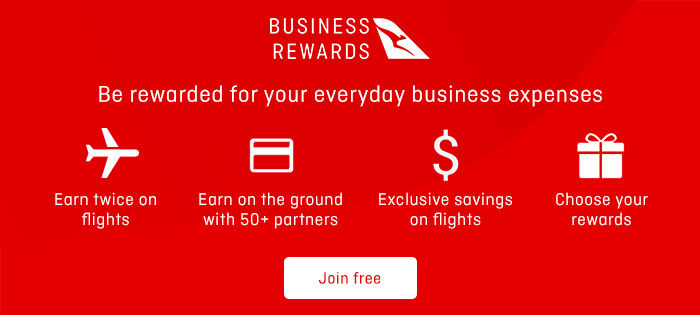 "The ability to say to the team 'You get to keep the points yourself, while the company earns them' is a real incentive!"
Even when you're not in the air, Qantas Points can also be earned on everyday business expenses with over 50 exclusive big name partners including, Dell, Samsung, Caltex and Amex.
Real rewards, real cost savings
So, what are the benefits of being a Qantas Business Rewards member?
Firstly, members receive significant discounts on their Qantas flights — and a tiered system means that the more they fly, the bigger those discounts become, up to as much as 8 per cent off the standard fare.
Then, with Qantas Points accruing from their very first flight or partner purchase, members are able to choose how they want to use their points. Some opt for flight upgrades or to redeem flights; others use their points for products from the Qantas Store or transfer them to employees as rewards and incentives.
However they use their Qantas Points, business owners agree that redeeming them delivers meaningful savings to their bottom line.
"Being a grassroots charity has meant that we haven't had a secured funding model, and really the toughest thing has been how to exist on the smell of an oily rag," notes Dr John van Bockxmeer of Fair Game Australia.
"Qantas Business Rewards is really easy for Fair Game… the business earns Qantas Points for us to make cost savings later. By reducing our travel spend, we can donate more items of recycled sports equipment to Australians that need it."
Case study: Carl and Cherie Marshall, CCM Guidance Systems
"Travel is very important to our company. To be able to visit our clients face-to-face on a regular basis is essential to our business," says Cherie.
"We travel up to 30 times per year domestically and internationally two, three times each year."
Flying is a natural fit for Carl and Cherie, given their company — CCM Guidance Systems — is the Australian agent for Satloc, which specialises in premium-quality aircraft GPS and flow control systems for aerial agriculture, as well as the agent for TracPlus, which provides the RockAIR tracking system for aircraft, vehicles and marine vessels.
For Cherie and Carl, being a Qantas Business Rewards member was a no-brainer.
"We've been a member for approximately five years," says Cherie.
"We joined for the ability to earn extra reward points for our company and staff and to have a central booking site for convenience."
Cherie says that not only is the Qantas Business Rewards booking tool easy to use, the Qantas app is also "very handy" when they are out and about.
"The process is much quicker, and having all the information in front of you at a glance is a definite plus," she adds.
But the true value of their membership has been in the cost savings they have been able to receive for their business.
"It's hard to say, but I would imagine it has been a reasonable amount over the period of time we have been members," says Cherie.
"The points have been used mainly for upgrades — business class!"
Overall, the message from Cherie and Carl is a simple one:
"Definitely sign up! There are lots of good advantages and it is also a very useful tool in tracking all company travel and expenses relating to airfares."
Find out how your business can earn Qantas Points on essential business expenses including travel, finance, stationary, fuel and technology from over 50 partner businesses by joining Qantas Business Rewards today.