Writing may not be your strong point, but real estate copy needs to be engaging and evocative. Here's how to make your marketing more attention-grabbing and appealing. 
Providing facts about a property can generate interest, but writing evocative copy for your listings can help home buyers truly connect with their prospective homes. Here, Melanie Matchett of LJ Hooker Sarina tells REB how agents can write more engaging and evocative copy to improve their marketing.
Having recognised the value of good copy, Ms Matchett says her agency introduced a copywriting course for all its staff in May last year, to help reduce vacancies and augment the agency's promotional material.
Doing so helped to reduce the vacancy rate of the agency's area from 9.5 per cent to below 8 per cent, with 15 properties leased in one month.
"Having emotional headlines allows a person to get invested in the actual property that they're looking at; they see themselves in it," Ms Matchett explains.
Choose a strong headline
According to REA group, 47 per cent of buyers stop searching after the second page of realestate.com.au's desktop site, and 56 per cent stop searching after page two on the mobile site.
"So in order for our properties to sit on those two first pages, no matter how long they've been vacant for, we need to make sure that they stand out among the rest of them," Ms Matchett emphasises.
One way to make your listing stand out and grab the attention of a potential buyer is to select a strong headline.
"The headline is very important," Ms Matchett says.
"We try and stick to five to nine words to explain the property and make it as appealing as possible."
She explains that limiting the number of words in your headline helps to attract buyers' attention quickly and encourages them to read the rest of the listing to find out more.
She recommends that agents choose "something appealing and to the point", rather than including all the information about the property.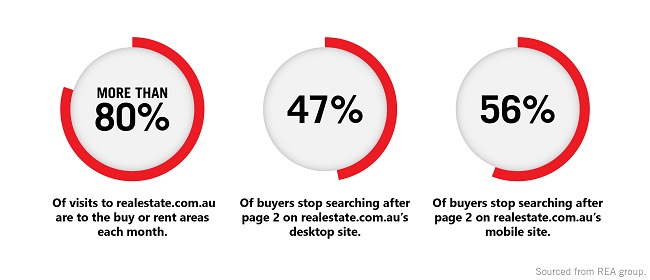 Target your intended demographic
Writing engaging and evocative copy also involves writing for your target audience.
Ms Matchett explains that there are certain words and key features of a property that can appeal to different demographics.
"We look at the features and benefits of a house," she says, "and we look at who those features and benefits would appeal to most."
Ms Matchett also points out that it's important to remember that in some cases, a property might be suitable to more than one demographic.
"It might be a small house with a low-maintenance yard; so that could be a young couple, it could be a single worker, it could be an elderly lady," she explains.
"The property could appeal to each of those different demographics for different reasons.
"For a young worker it could be that it doesn't have a big yard to mow and he doesn't want to spend his weekend away from work mowing. Same with the elderly lady: less to maintain, less to clean, those sorts of things."
Ms Matchett explains that people can also connect with a property for psychographic reasons.
Some home buyers may look at a property from an intellectual perspective, while others might look for a spiritual connection.
"We try and make sure that we cover each specific area; they might be influenced by the area [where] it's located, like whether it's by the beach," Ms Matchett says.
Provide a detailed description
Ms Matchett's office ensures that its listings include information about all the aspects of the property, not only the key selling points.
"We make sure that we have all of the information that anybody could need for that listing or that property.
"That way they're able to make an informed decision based on everything that's in the advertising and not just the key features that the agent may think will sell the property."
Key tips
• Keep your headline between five and nine words and choose something appealing and to the point
• Look at how your competition advertises property; make sure they're not advertising properties better than you are
• Include all the information about the property, not only the key selling points
• Write for all potential target audiences
• Take a course to enhance your copywriting skills