Promoted by Openn Negotiation
Online property sales platform, Openn Negotiation, has been working with agents to help facilitate transactions under COVID-19 restrictions across the nation.
The recently released Q3 report showed Certified Openn Negotiation agents are fully equipped with the ability to prevail, despite current challenges, thanks to the inclusion of the digital selling method.
Topping the ladder in multiple categories for a consecutive quarter was Will Ainsworth of McGrath Geelong.
Achieving the Highest Number of Listings (24 properties) and the Highest Value of Property Sold ($7,857,000), Ainsworth attested to how useful it is to have an effective alternative in these trying times. 
"I've sold 5 houses in the last 10 days and I haven't left my own house," he said. "DocuSign is merged in with Openn Negotiation, so all the contracts are done digitally."
Marcus Rayner of First National Rayner took out the Openn Negotiation of the Quarter category, with his sale of 22 Milverton Street, Melton - which sold a huge 55.36% above reserve.
The Melton sale was Mr Rayner's first experience with Openn Negotiation and he says he's looking forward to further sales through the platform.
"I'm definitely keen to do more," he said. "Buyers love it because it's transparent, vendors love it because they can track genuine interest at all times, and as agents we love it because we get a result in 17 days instead of 70."
Here are the top 5 Openn Negotiations of the Quarter: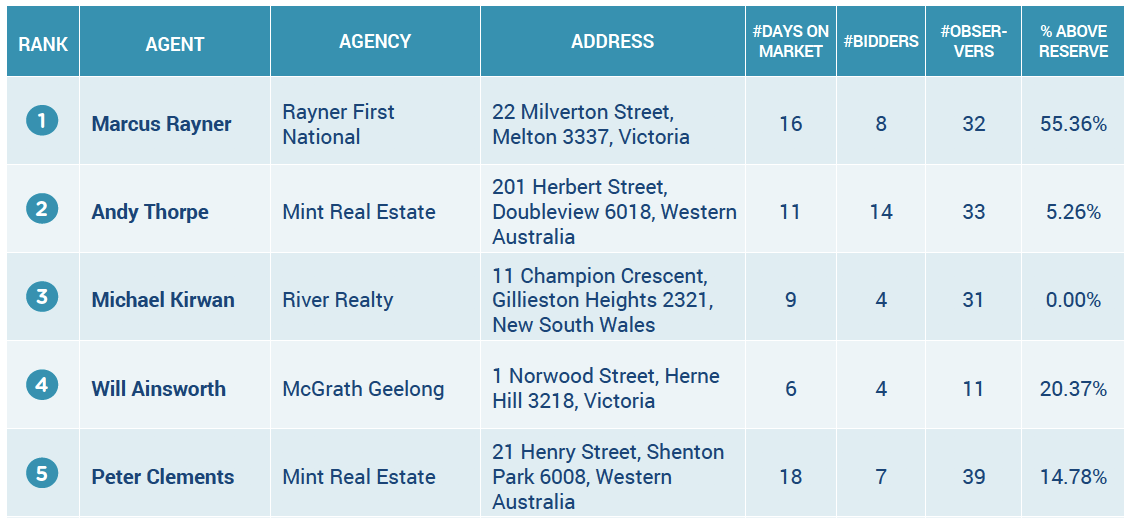 Peter Clements of Mint Real Estate and Co-Founder of Openn Negotiation, achieved equal first place in the Lowest Days on Market category with just 13 days. 
Acknowledging that it's not business as usual right now, Clements says agents can continue to achieve excellent results in short time frames by implementing the Openn Negotiation process.
"Once you understand the Openn Negotiation formula it's super easy and every property becomes sellable in a short time, no matter what it looks like," Clements said.
Christine Holowiecki of Keeping It Realty, who shared first place in the Lowest Days on Market category, refuted the concerns of many agents who feared that the online process might leave them out of the job.
"While Openn Negotiation is a good solution for buyers and sellers, it doesn't replace agents at all. It's very much a platform that requires the skill, knowledge and expertise of an agent," she said.
Andy Thorpe of Mint Real Estate, winner of the Most Bidders on an Openn Negotiation Property (14 bidders), explained how valuable the Openn Negotiation process is under COVID-19 circumstances.
"It allows conditional buyers to bid in a no-touch, safe environment," he said. "They can complete their contracts remotely and then bid from the comfort of their own home."
Another McGrath Geelong agent who performed strongly was Ricky Forte — claiming third for Lowest Days on the Market (14 days) and ranking five times in Most Bidders on an Openn Negotiation Property.
Forte began using Openn Negotiation in October 2019 and is enjoying the transparency the process offers.
"It takes out the lack of trust and nerves a lot of people have around negotiating such an important decision in their lives," he said.

"Openn Negotiation still gives people the opportunity to compete like a regular auction but from their own lounge room. It's hard to think of a scenario where there would be a better sales method than this."
To view the complete list of top performing agents in quarter 3, download the report here.
Advice for thriving in this challenging environment
The leading Openn Negotiation agents from quarter three are continuing to see excellent results, despite the restrictions. Their advice to agents looking to adapt during COVID-19 is simple: take the plunge.
"Openn is, without doubt, one of the best ways to sell real estate right now," said Andy Thorpe.
"A lot of agents have picked up Openn Negotiation in these trying times and realised that it's not just for trying times - it's for all times. I think that will stick for the majority of agents moving forward," said Will Ainsworth.
Want to add Openn Negotiation to your agent toolkit? Until May 4, REB readers can claim 50% off all training, simply enter the code REB50 when registering online. Get started here.