When selling a home, knowing the pivotal points when buyers decide whether to buy a property or not can put you in the driver's seat and help you create new buyers for the home.
When it comes to making any purchasing decision, psychologists have shown that people essentially go through the same decision-making process regardless of the product in question — buying a home involves the same steps as buying a TV.
At Avnu, we work really closely with our marketing team to help create buyers, not just find them.
Here are the steps we consider:
1: Identify the need
The first step in any consumer buying decision is identifying that there is a need. In the case of property, the need might be for a better-located or larger home, a need to own rather than rent, or a need for a home that requires lower maintenance as we get busier or older or more interested in being closer to the beach rather than spending time in the garden.
At Avnu, we are always thinking about how a certain property could fulfil the needs for certain buyers. Being able to articulate these and amplify them using channels such as social media is an effective way to create buyers who haven't fully realised their needs yet.
A buyer might be searching for a different suburb, when the suburb you're selling in is just as close to the city, or they might not realise that paying that extra money for a study so they can work from home would be great for their lifestyle.
Using social media to highlight these benefits can help potential buyers realise needs they didn't they know they had, which is the first step in helping create more buyers for a property.
At Avnu, we run social media advertising alongside listing on the real estate portals to help capture an audience of buyers who might not be searching for listings like ours, but ones that are similar.
2: Search for information
Once a need is identified, the next step in any purchasing decision is to search for information. Property sites such as domain.com.au and realestate.com.au are still the go-to sites for Australians researching where and what to buy.
The first thing Avnu agents consider to get their listings in front of as many relevant people as possible is getting as many features listed as possible. If someone has pets and filters their search by pet-friendly apartments, you don't want your listing to not be seen because of a filter. More serious buyers tend to have more refined searches, so making sure you are conveying all the information you can is important for helping identify more buyers.
3: Evaluate options
The next stage after searching for information is evaluating the options. This starts online and then is narrowed down by attending open homes and comparing one house to another.
When you're trying to win over a buyer online, you need to help them identify that the property ticks all their boxes and create a story around the home that starts to build an emotional connection.
Exceptional photography is more crucial than ever because buyers base their decision on whether to view a property — and sometimes to buy it — based on the photos they see of a property online.
Good photography doesn't mean using wide-angle lenses to make rooms appear bigger than they really are. At Avnu, we prefer magazine-style photos that tell a story and reflect the home in its best possible light. Also important is having a floor plan that accurately depicts the home's layout, position on the site and orientation to the sun.
As buyers search for information about houses, they are also looking at how a particular suburb, neighbourhood or street might meet their lifestyle goals. It can pay to point out key lifestyle attractions in any online advertising and marketing materials to help buyers imagine what their lifestyle might be like when they're living there.
If your property then makes it to the shortlist, a buyer's next step will be the inspection.
However, it's important to remember your property might be at the bottom of their shortlist. Nurturing a relationship with the buyer before they step in the door is crucial.
Quick response times and helpful answers to any questions before an inspection give buyers confidence in the agent and the property.
Buyers are more likely to make decisions faster when they trust the person they're dealing with, and that's what we work hard to establish.
ABOUT THE AUTHOR
---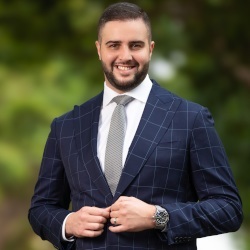 Jason Georges is a real estate agent with LJ Hooker Avnu.
He is one of Sydney's best-performing sellers.