Property management business :Different has revealed a new partner program that will see it team up with "an ecosystem of like-minded businesses" in pursuit of growth.
As part of the push for expansion, and the new emphasis on partnerships, it's already aligned itself with another real estate player — Upside Realty — with the two groups embarking on a mutually beneficial referral partnership. 
According to the property management company, "with Upside focusing on sales and :Different on post-sales property management for investor customers, the partnership brings two companies together with shared values around transparency, fairness and a modern technology approach".
It's reported that the :Different and Upside Realty partnership will enable Australian customers to benefit "from a seamless end-to-end experience — from helping customers sell their homes to helping them manage their investment properties, all while making it more efficient and affordable".
According to :Different's head of partnerships, Andrew Sorokovsky, the aim of the new partner program is "to build a strong ecosystem within the Australian property sector".
"We believe property ownership should be a positive, seamless and transparent experience for our customers, and partnering with businesses like Upside Realty allows us to collaboratively bring this to life," he commented.
"We look forward to building upon the success of our partnership with the Upside team, and to helping more partners achieve their goals over 2021."
For James Kirkland, Upside Realty director of sales and operations, the partnership allows them to "truly advocate for transparency and best-in-class experience across the board in the Australian real estate landscape".
He said: "Ultimately, the technology is enabling us to drive a better customer experience that is both more efficient and affordable."
Calling :Different "a perfect match for Upside Realty", Mr Kirkland said the pairing will provide the real estate group's property investors "with the very best experience when it comes to buying or selling a property, as well as when it comes to finding someone to manage their property".
The partnership's announcement comes as :Different reported that it would also be launching an agency program, which will see :Different leverage its team of experienced property managers, operations and technology to take over the responsibility of managing a rent roll for small and medium-sized associated agencies.
Dubbed a "rent roll management as a service", :Different said that the agency program would enable principals to "focus on their sales strengths and customer relationships and maintain full ownership of the rent roll without the responsibilities of service delivery".
It's also launched a new referral program for sales agents, brokers, accountants, conveyancers and other businesses.
ABOUT THE AUTHOR
---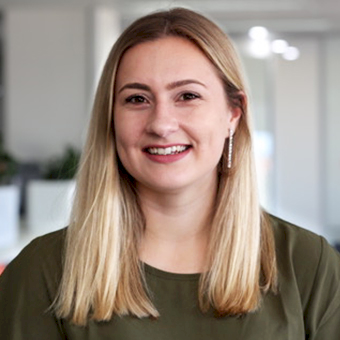 Grace is a journalist across Momentum property and investment brands. Grace joined Momentum Media in 2018, bringing with her a Bachelor of Laws and a Bachelor of Communication (Journalism) from the University of Newcastle. She's passionate about delivering easy to digest information and content relevant to her key audiences and stakeholders.