Promoted by Palace
Property managers have their important reports with custom views at their fingertips with Palace's new interactive dashboard.
The property managers' dashboard will make your working-life quicker, having the important information at your fingertips: see it, manage it and then forget it. Click-through segmented graphs display the vital information with custom views and instant messaging ability.
The new interactive dashboard displays following topics:
Rent Alerts - This will show who was due to pay rent up to yesterday's date and has not paid. It will take you to a custom view so you can send an SMS to let the tenant know their payment has been missed. 

A selection of 8 Graphs to give you up to date live-time data:

Rent Arrears

Rent Increases

Fixed Term Leases Ending

Vacancies

Inspections

Work Orders

Properties Advertised

Rent Reviews
The new interactive dashboard: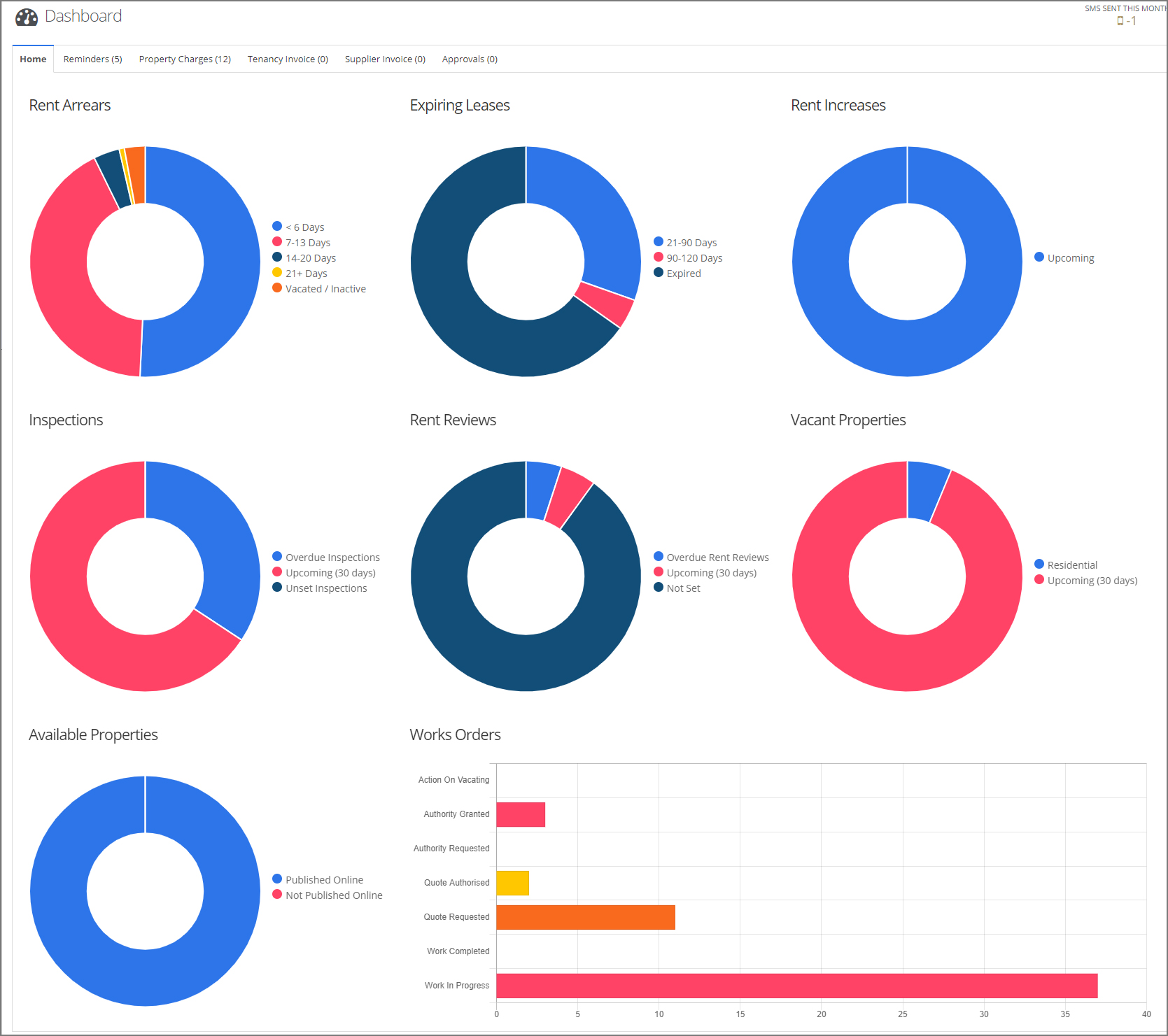 The Property Manager's dashboard displays 8 graphs, each graph is then broken down into segments,. i.e Rent Arrears: 0-6 days, 7-14 days and so on. Click on 0-6 days and you will only see those tenants in arrears by those number of days.
Clicking on the segment of the graph you want to find out more about will take you to a custom view, all set out with the information you need. You can then click on the +, pick up your letter or SMS and send. Alternatively you can use the normal mail merge features to email or SMS letters,  export to Excel, or print to PDF. You will be done in just a few minutes.
Find out what the Dashboards can do for you.
Who Can See the Dashboards?
The Dashboard will always default to the logged in user. But you can select other users or select 'All' and it will show the whole company to give an overview on how your team is performing. 
At the end of January the 'Boss's Dashboard' will be released, this is a more statistics-based dashboard. It will display the information from the portfolio summary report but in a live-time graph. So the frustration of reading 'You had 14 people in arrears over 22 days at the end of the month, but not being able to find out who afterward' will be gone. You will be able to click on a specific day and see the information you require.
Request your Free Demo Now and see how you can make your working-life quicker.
Palace - Property Management Software
Palace brings you web-based property management software that helps you to work smarter, not harder. Gather an up-to-date analysis with KPI reports, graphs and comparisons, so that you can focus on growing your rent roll.
Trust Accounting, Key Management, Online Document Storage, Invoice Barcode Scanning and our intuitive Inspection App help you to make the most of your day, whilst our seamless mail-merge functionality saves you time on communication.
Keep your skills up to date with regular training and weekly webinars. Discover the property management software that skyrockets efficiency, eliminates admin headaches and comes with world-class support.
Find out for yourself how Palace can help you grow your property management business. Request your free demo now.